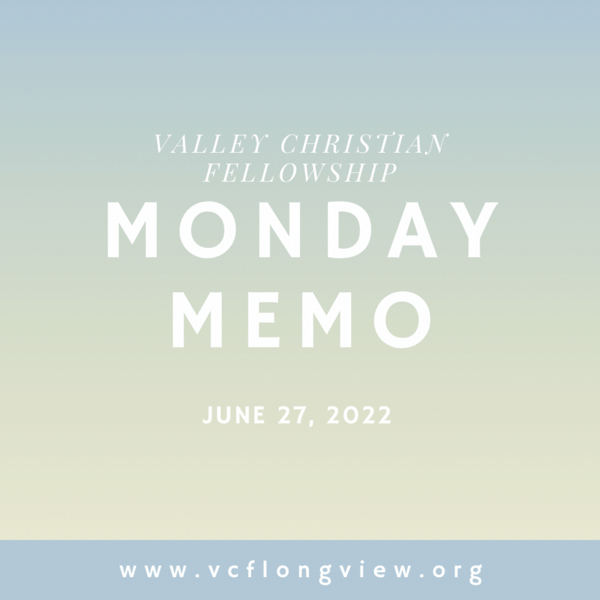 Weekend Recap
Hey Valley,
This weekend we marveled at some of what God has done for us in Christ. His mercy, love and grace are gifts that leave us all in awe and I pray you were overwhelmingly encouraged. If you want to review or catch up on the message you can find it here and the sermon notes here.
This coming weekend we will begin to look at our response to such a gift. I hope to see you in one of our services.
We are also celebrating what God did this past week at our VBS. I want to ask you to keep praying for the kids that came to faith and those who also grew in their confidence in who Christ is and what he has done. Speaking of celebrations… did you know this past weekend we had three English service as well as hosted church services in three other languages (Chinese, Vietnamese and Spanish). How cool!
Weekly Bible Reading
Jun 27 Lev. 14, Pro. 16, Rom. 9
Jun 28 Psa. 78:1-20, Psa. 78:21-49, Rom. 10
Jun 29 Lev. 15 , Pro. 17, Rom. 11
Jun 30 Psa. 78:50-72, Pro. 18, Rom. 12
Jul 1 Lev. 16, Psa. 79, Rom. 13
You can find the daily devotions "Ancient Ways for Modern Days" here:
Our address is: 2911 Pacific Way, Longview, WA 98632, USA