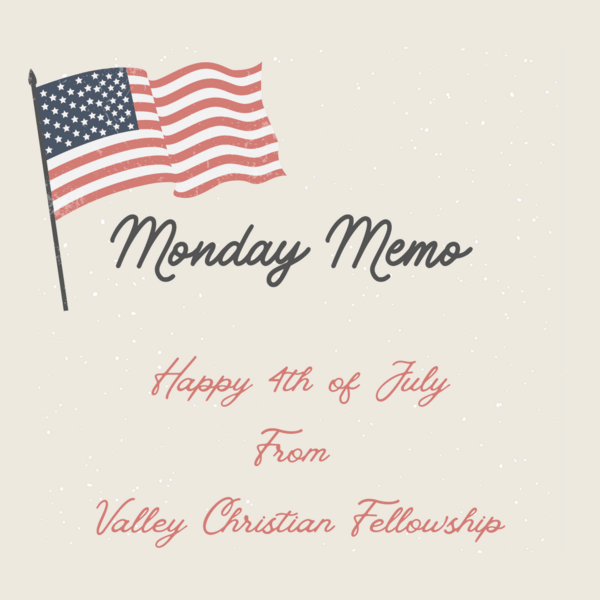 Weekend Recap
Happy 4th of July!
Today as our nation celebrates our history and freedom I am praying that God will use his church to be an incredible blessing to the people around them. I am also praying for us all to be "strengthened by the grace that is in Christ Jesus," as we were encouraged during our worship services this weekend.
The video for this weekend's message is here and the notes can be downloaded here.
I also have a couple of upcoming opportunities I want you to be aware are coming quickly.
The first is the Terry Taylor Community Garage Sale. Valley is hoping to simply be a blessing to the community and connect with those who come through the area. We plan on hosting food trucks, having a kids carnival with bounce houses and having many "garage sale spots" in our parking lot. To accomplish this we are hoping for an "all hands on deck" involvement from our church family. Please contact Andrew and let him know you interested in being part of this fun day.
Second, mark your calendars for Sept 11th. That is our next baptism service. It will be at Willow Grove (like we did last year), and will include a church family BBQ.
That is all for now, have a Happy 4th of July!
Loving people toward Jesus,
Pastor Mike
Weekly Bible Reading
Jul 4 Lev. 17, Pro. 19, Rom. 14
Jul 5 Lev. 18, Pro. 20, Rom. 15
Jul 6 Lev. 19, Pro. 21, Rom. 16
Jul 7 Lev. 20, Psa. 80, 1 Cor. 1
Jul 8 Psa. 81-82, Pro. 22, 1 Cor. 2
Our address is: 2911 Pacific Way, Longview, WA 98632, USA