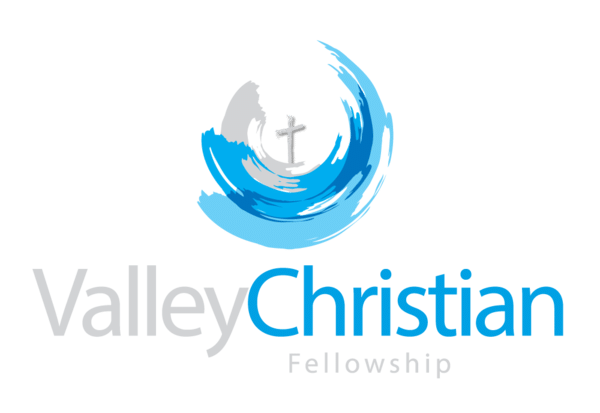 Valley Happenings
July 9/10, 2022
Welcome
Let us know if you have joined us online or attended a service, have a prayer request, would like to be added to the pastor's email list, or want to get involved. Find a connection card in the bulletin, online connection cards at www.vcflongview.org/connect, or call 360-425-1061.
WE WOULD LOVE TO HEAR FROM YOU!
Upcoming Events

Sermon Guide
From Death to Life: Our Devoted Response (Part 2)
July 9/10, 2022
For we are his workmanship, created in Christ Jesus for good works, which God prepared beforehand, that we should walk in them. Ephesians 2:10
~~ You, a Masterpiece of Christ, Have Good Works Prepared for You. You Are Called to Walk in Them. ~~
● Series Review:
▪ Before Christ, you were in a __________ state.
▪ God ______________ saved us, who were _____________ lost.
▪ You have been saved by _______ alone, through _______ alone.
● You are a _____________ of Christ.
For we are his workmanship, created in Christ Jesus . . . Eph 2:10a
○ God has _________ us and ___________ to work in us.
Therefore, if anyone is in Christ, he is a new creation. The old has passed away; behold, the new has come. 2 Cor 5:17
○ ________ God for you are a masterpiece of the ________ on display.
Know that the Lord, he is God! It is he who made us, and we are his; we are his people, and the sheep of his pasture." Ps 100:3
● There are ______ _______ set aside for _____!
. . . for good works, which God prepared beforehand, . . . Eph 2:10b
. . . he saved us, not because of works done by us in righteousness, but according to his own mercy, by the washing of regeneration and renewal of the Holy Spirit, . . . Titus 3:5
We have all become like one who is unclean, and all our righteous deeds are like a polluted garment. Is 64:6a
. . . in which you once walked, following the course of this world, following the prince of the power of the air, the spirit that is now at work in the sons of disobedience-- Eph 2:2
● Because of the ________, we should ______ in the good works set aside for us.
. . . that we should walk in them. Eph 2:10c
And God is able to make all grace abound to you, so that having all sufficiency in all things at all times, you may abound in every good work. 2 Cor 9:8
. . . who gave himself for us to redeem us from all lawlessness and to purify for himself a people for his own possession who are zealous for good works. Titus 2:14
Welcome Lunch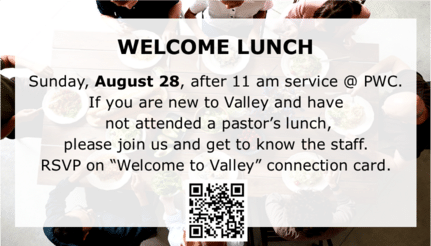 Prayer Request

Bible Reading Plan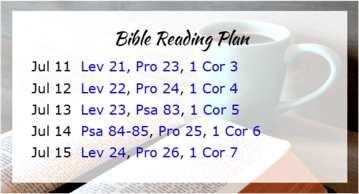 Ancient Ways for Modern Days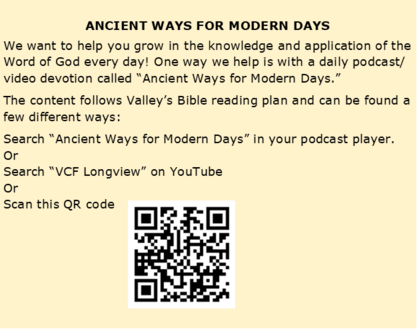 Opportunity
OPPORTUNITY TO GIVE THROUGH OFFERINGS:
Mail to: Valley Christian Fellowship, 2911 Pacific Way, Longview, WA 98632
Online giving: https://vcflongview.org/give or log in to your Faithlife account. For assistance call 360-425-1061 Monday-Friday.
*Online giving fees are less when choosing the bank account option versus a bank card.
Giving to community charities? Send gifts directly to charity at the following addresses:
*Community House, PO Box 403, Longview, WA 98632.
*Cowlitz County Chaplaincy, PO Box 2578 Longview, WA 98632
*Caring Pregnancy Center, 1010 Fir Street, Longview, WA 98632
Bless Every Home
https://blesseveryhome.com/signup/
Our address is: 2911 Pacific Way, Longview, WA 98632, USA