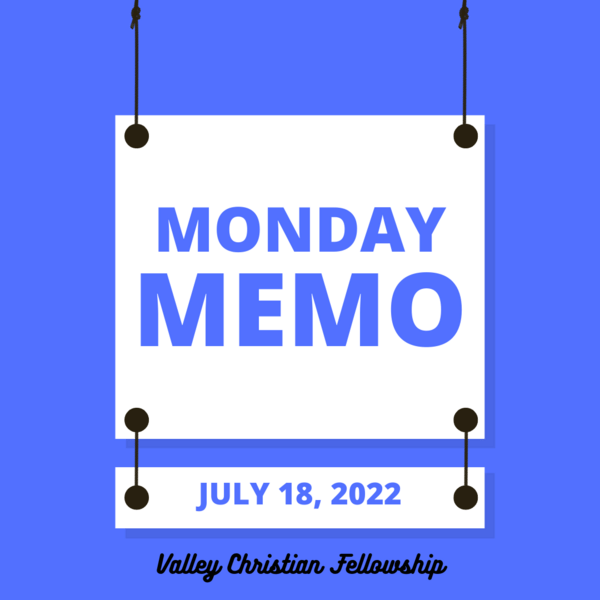 Weekend Recap
Hey Valley,
Thanks for being flexible this weekend, as we had to make some adjustments to the plan that was in place. From what I heard, we still had a great weekend, and the new series started off strong. The series is titled "The Beginning of Wisdom" and looks at select teaching in Proverbs about the fear of the Lord. As always, you can find this weekend's message here and the outline here.
This week we are also going to continue Phase 1 of the Youth and Family Center update. Tonight, at about 5 pm, we will have the building open for anyone who is able to come help tape to prepare for painting.
I can also have the building open at any time tomorrow if you want to come by and do some taping. Tomorrow the walls will be sprayed, and then Wednesday night, we are going to roll paint the ceiling and do touch up.
That's all for now, I look forward to seeing you this coming weekend!
Loving people toward Jesus,
Mike
Weekly Bible Reading
Jul 18 Lev. 25, Psa. 86, 1 Cor. 8
Jul 19 Psa. 86-87, Pro. 27, 1 Cor. 9
Jul 20 Lev. 26, Pro. 28, 1 Cor. 10
Jul 21 Psa. 88, Pro. 29, 1 Cor. 11
Jul 22 Lev. 27, Psa. 89:1-18, 1 Cor. 12
Upcoming Events
Download
Saturday, July 23rd, 12 pm – Sunday, July 24th, 12 pm
Download
If you are interested in getting more information about participating or helping with this community event, please contact office@vcflongview.org.
Saturday, August 6th, 12 pm
Our address is: 2911 Pacific Way, Longview, WA 98632, USA