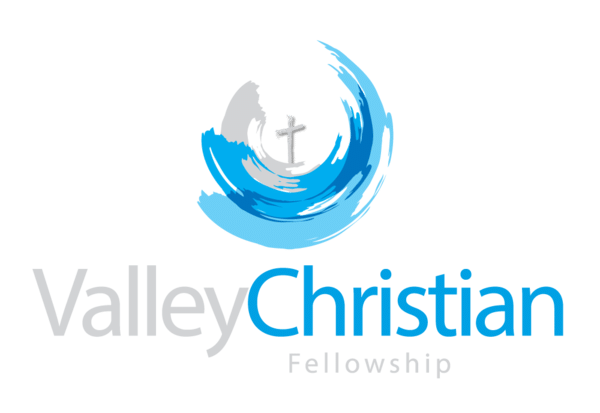 Valley Happenings
July 23/24, 2022
Welcome
Let us know if you have joined us online or attended a service, have a prayer request, would like to be added to the pastor's email list, or want to get involved. Find a connection card in the bulletin, online connection cards at www.vcflongview.org/connect, or call 360-425-1061.
WE WOULD LOVE TO HEAR FROM YOU!
Communion Weekend
We have moved the Lord's Supper to this weekend, we will share together, during each service.
Upcoming Events

Sermon Guide
From Death to Life: Playing the Long Game
July 23/24, 2022
The fear of the Lord prolongs life, but the years
of the wicked will be short. Proverbs 10:27
~~ Fear of the Lord: Living in ___________ Based Upon
Who _____ Is and Who _____ Are Before Him ~~
● General Earthly Principles:
○ General principles are not guaranteed _________.
○ The Godly life is a ______ life.
". . . If you will diligently listen to the voice of the Lord your God, and do that which is right in his eyes, and give ear to his commandments and keep all his statutes, I will put none of the diseases on you that I put on the Egyptians, for I am the Lord, your healer." Exodus 15:26
Psalm 73:1-28
○ The Godly life is a _______ life.
The fear of the Lord is a fountain of life, that one may turn away from the snares of death. Proverbs 14:27
"The thief comes only to steal and kill and destroy. I came that they may have life and have it abundantly." John 10:10
○ The evil life is ______ life.
The fear of the Lord prolongs life, but the years of the wicked will be short. Proverbs 10:27
○ The evil life is a ______.
See Proverbs 14:27 & John 10:10
● Greater Eternal Realities:
o The longest life on earth is nothing in the light of __________.
But as for the cowardly, the faithless, the detestable, as for murderers, the sexually immoral, sorcerers, idolaters, and all liars, their portion will be in the lake that burns with fire and sulfur, which is the second death. Revelation 21:8
○ The righteous will live _________.
When the tempest passes, the wicked is no more, but the righteous is established forever. Proverbs 10:25
○ The righteous will live by _______.
For God so loved the world, that he gave his only Son, that whoever believes in him should not perish but have eternal life. John 3:16
Milk for Community House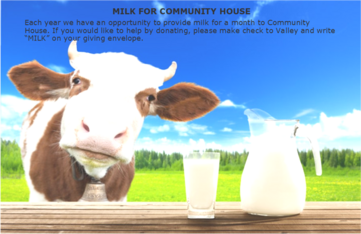 TERRY TAYLOR YARD SALE @ VALLEY
Saturday, August 6
There are opportunities for EVERYONE to have a part as Valley serves our community. Here's how YOU can help!
Donated cases of bottled water can be dropped off at the PWC anytime doors are open.
Volunteer during the parking lot carnival. 3 time slots available for 10 activity stations (7:30 - 10:30; 10:30 ‐ 1:30; 1:30 - 4:30). Call 214-803-7745 to reserve your time slots.
Sell your own garage sale items. Monday 7/25 is the last day to reserve a spot. Either let us know on your connection card or email andrew@vcflongview.org.
Welcome Lunch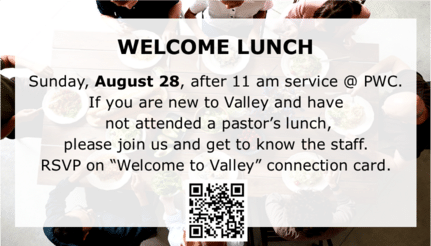 Prayer Request

NO KEENAGERS
There will be no Keenagers for the remainder of July and will resume on August 3rd.
Bible Reading Plan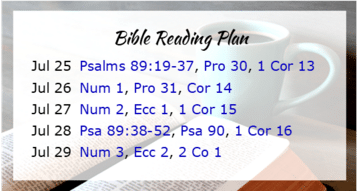 Opportunity
OPPORTUNITY TO GIVE THROUGH OFFERINGS:
Mail to: Valley Christian Fellowship, 2911 Pacific Way, Longview, WA 98632
Online giving: https://vcflongview.org/give or log in to your Faithlife account. For assistance call 360-425-1061 Monday-Friday.
*Online giving fees are less when choosing the bank account option versus a bank card.
Giving to community charities? Send gifts directly to charity at the following addresses:
*Community House, PO Box 403, Longview, WA 98632.
*Cowlitz County Chaplaincy, PO Box 2578 Longview, WA 98632
*Caring Pregnancy Center, 1010 Fir Street, Longview, WA 98632
Bless Every Home
https://blesseveryhome.com/signup/
Our address is: 2911 Pacific Way, Longview, WA 98632, USA