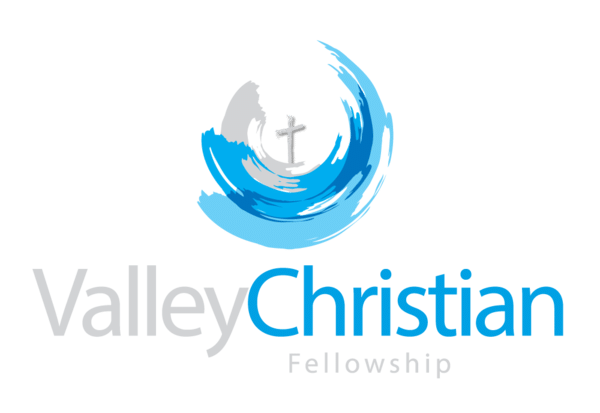 Valley Happenings
October 22/23, 2022
Welcome
Let us know if you have joined us online or attended a service, have a prayer request, would like to be added to the pastor's email list, or want to get involved. Find a connection card in the bulletin, online connection cards at www.vcflongview.org/connect, or call 360-425-1061.
WE WOULD LOVE TO HEAR FROM YOU!
Upcoming Events

CAN YOU HELP? A HUGE AMOUNT OF CANDY IS STILL NEEDED!
We have TWO October community outreach days planned which will require a large amount of candy. PLEASE HELP by dropping off candy during any service by NEXT SUNDAY, OCTOBER 23rd.
HALLOWEEN TRUNK-OR-TREAT COMMUNITY OUTREACH
Friday, October 28, 7-8:30pm @ PWC. Fun for everyone…adults needed to decorate your vehicle, adults & youth to help pass out candy, and kids have a safe place to get way too much candy! To volunteer RSVP on the connection card.
TRICK OR TREAT WALK @ THE LAKE
Saturday, October 29. VOLUNTEERS NEEDED to staff Valley's booth. Volunteer time is 1-5pm/event time 2-4pm. RSVP on Connection Card.
Annual Family Gathering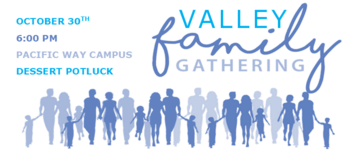 Sermon Guide
Broken Down Wall: Bowing Before the Father
October 22/23, 2022 
~~ Bowing Before God _________ Beholding God's Work ~~
‌
● You can reverently __________ the Father in Prayer.
For this reason I bow my knees before the Father, from whom every family in heaven and on earth is named, . . . Ephesians 3:14-15
‌
○ We pray in __________.
‌
· Humble before the Fatherly ___________
‌
· Humble before the Fatherly ________
‌
○ We pray in ____________.
. . . in whom we have boldness and access with confidence through our faith in him. Ephesians 3:12
‌
● You can expectantly ________ to the Father in prayer.
‌
. . . that according to the riches of his glory he may grant you to be strengthened with power through his Spirit in your inner being, so that Christ may dwell in your hearts through faith--that you, being rooted and grounded in love, may have strength to comprehend with all the saints what is the breadth and length and height and depth, and to know the love of Christ that surpasses knowledge, that you may be filled with all the fullness of God. Ephesians 3:16-19
‌
○ Appeal for inner __________ through the Spirit.
‌
○ Appeal for ________ comprehension of Christ's love.
‌
○ Appeal for the ___________ of God's presence.
● You can hopefully _________ glory to the Father in prayer.
Now to him who is able to do far more abundantly than all that we ask or think, according to the power at work within us, to him be glory in the church and in Christ Jesus throughout all generations, forever and ever. Amen. Ephesians 3:20-21
‌
○ Hope in God who is more __________ than we are.
‌
○ Hope in God who is more __________ than we are.
‌
○ Hope in God who is ___________ through us.
Thank you for First Responders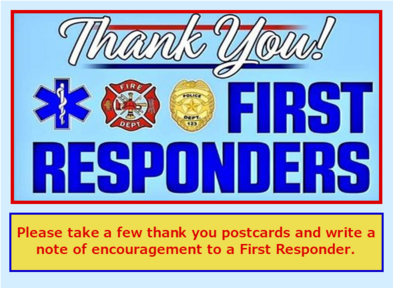 Please return by October 23rd.
Welcome Lunch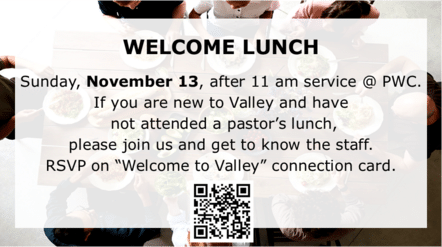 Prayer Request

Bible Reading Plan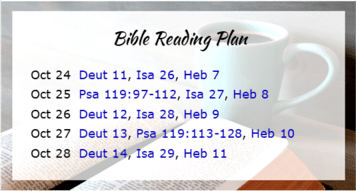 Opportunity
OPPORTUNITY TO GIVE THROUGH OFFERINGS:
Mail to: Valley Christian Fellowship, 2911 Pacific Way, Longview, WA 98632
Online giving: https://vcflongview.org/give or log in to your Faithlife account. For assistance call 360-425-1061 Monday-Friday.
*Online giving fees are less when choosing the bank account option versus a bank card.
OTHER WAYS TO SUPPORT VALLEY
Amazon Smile: Register at https://smile.amazon.com. Connect your account to Valley Christian Fellowship. Each time you shop, go to https://smile.amazon.com and a percentage of the purchase will be donated to Valley.
Fred Meyers: Visit www.fredmeyer.com/account/communityrewards/enroll. Sign into your Fred Meyer account, type Valley Christian Fellowship and select the church. Each time you use your rewards card you'll be helping Valley.
Giving to community charities? Send gifts directly to charity at the following addresses:
*Community House, PO Box 403, Longview, WA 98632.
*Cowlitz County Chaplaincy, PO Box 2578 Longview, WA 98632
*Caring Pregnancy Center, 1010 Fir Street, Longview, WA 98632
Bless Every Home
https://blesseveryhome.com/signup/
Our address is: 2911 Pacific Way, Longview, WA 98632, USA