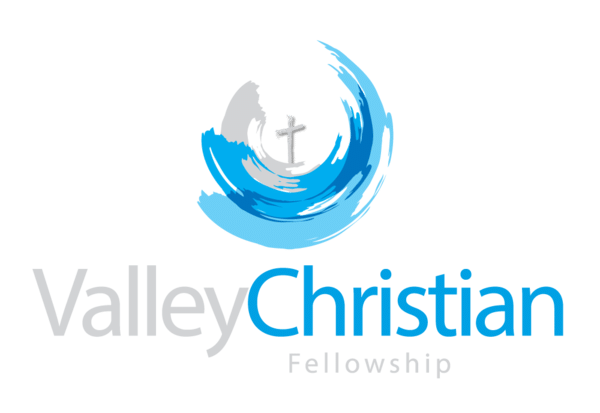 Valley Happenings
October 29/30, 2022
Welcome
Let us know if you have joined us online or attended a service, have a prayer request, would like to be added to the pastor's email list, or want to get involved. Find a connection card in the bulletin, online connection cards at www.vcflongview.org/connect, or call 360-425-1061.
WE WOULD LOVE TO HEAR FROM YOU!
Upcoming Events

Annual Family Gathering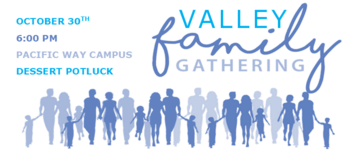 Sermon Guide
Walking Worthy of the Call: Walking in Unity
October 29/30, 2022 
~~ We Walk Worthy of Christ When We Walk in _______ ~~
● Theme of Chapter 4: Walk in a manner worthy of _______.
I therefore, a prisoner for the Lord, urge you to walk in a manner worthy of the calling to which you have been called, . . . Ephesians 4:1
○ Walk: To Lead a ______
And you were dead in the trespasses and sins in which you once walked, following the course of this world, following the prince of the power of the air, the spirit that is now at work in the sons of disobedience--. . . Ephesians 2:1-2
For we are his workmanship, created in Christ Jesus for good works, which God prepared beforehand, that we should walk in them. Ephesians 2:10
○ Worthy: To Bring to _________
● We are called to walk in _______.
. . . with all humility and gentleness, with patience, bearing with one another in love, eager to maintain the unity of the Spirit in the bond of peace. Ephesians 4:2-3
○ Our unity is made evident in our mutual ______.
○ Our unity is maintained by us and ______ in Christ.
But now in Christ Jesus you who once were far off have been brought near by the blood of Christ. For he himself is our peace, who has made us both one and has broken down in his flesh the dividing wall of hostility . . . Ephesians 2:13-14
● Our unity reflects God's __________.
There is one body and one Spirit--just as you were called to the one hope that belongs to your call--one Lord, one faith, one baptism, one God and Father of all, who is over all and through all and in all. Ephesians 4:4-6
○ One Body: The ________
And he put all things under his feet and gave him as head over all things to the church, which is his body, the fullness of him who fills all in all. Ephesians 1:22-23
. . . and might reconcile us both to God in one body through the cross, thereby killing the hostility. Ephesians 2:16
. . . which was not made known to the sons of men in other generations as it has now been revealed to his holy apostles and prophets by the Spirit. This mystery is that the Gentiles are fellow heirs, members of the same body, and partakers of the promise in Christ Jesus through the gospel. Ephesians 3:5-6
○ One Spirit: The ______________
For through him we both have access in one Spirit to the Father. Ephesians 2:18
In him you also are being built together into a dwelling place for God by the Spirit. Ephesians 2:22
○ One Hope: ___________
. . . having the eyes of your hearts enlightened, that you may know what is the hope to which he has called you, what are the riches of his glorious inheritance in the saints, . . . Ephesians 1:18
. . . making known to us the mystery of his will, according to his purpose, which he set forth in Christ . . . Ephesians 1:9
○ One Lord: _______________
And he put all things under his feet and gave him as head over all things to the church, which is his body, the fullness of him who fills all in all. Ephesians 1:22-23
○ One Faith: ________ Alone
In him you also, when you heard the word of truth, the gospel of your salvation, and believed in him, were sealed with the promised Holy Spirit, . . . Ephesians 1:13
○ One Baptism: _______ with Christ
○ One God: The ________
Welcome Lunch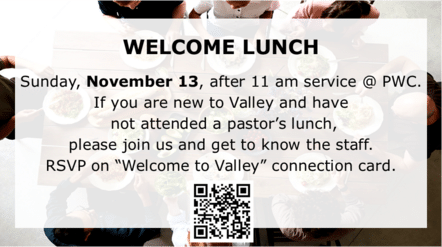 Prayer Request

Bible Reading Plan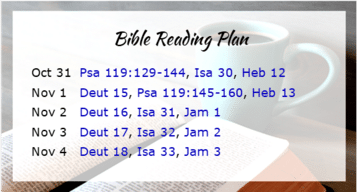 Opportunity
OPPORTUNITY TO GIVE THROUGH OFFERINGS:
Mail to: Valley Christian Fellowship, 2911 Pacific Way, Longview, WA 98632
Online giving: https://vcflongview.org/give or log in to your Faithlife account. For assistance call 360-425-1061 Monday-Friday.
*Online giving fees are less when choosing the bank account option versus a bank card.
OTHER WAYS TO SUPPORT VALLEY
Amazon Smile: Register at https://smile.amazon.com. Connect your account to Valley Christian Fellowship. Each time you shop, go to https://smile.amazon.com and a percentage of the purchase will be donated to Valley.
Fred Meyers: Visit www.fredmeyer.com/account/communityrewards/enroll. Sign into your Fred Meyer account, type Valley Christian Fellowship and select the church. Each time you use your rewards card you'll be helping Valley.
Giving to community charities? Send gifts directly to charity at the following addresses:
*Community House, PO Box 403, Longview, WA 98632.
*Cowlitz County Chaplaincy, PO Box 2578 Longview, WA 98632
*Caring Pregnancy Center, 1010 Fir Street, Longview, WA 98632
Bless Every Home
https://blesseveryhome.com/signup/
Our address is: 2911 Pacific Way, Longview, WA 98632, USA