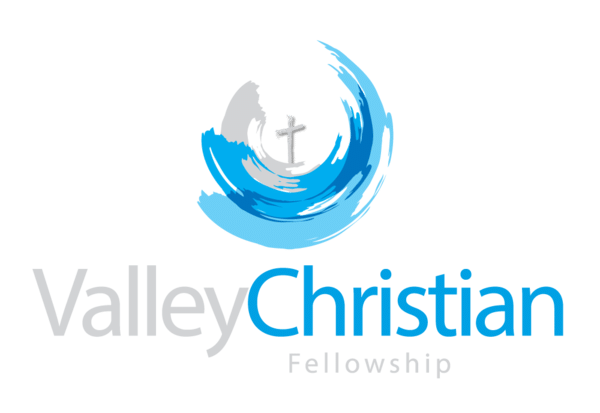 Valley Happenings
November 5/6, 2022
Welcome
Let us know if you have joined us online or attended a service, have a prayer request, would like to be added to the pastor's email list, or want to get involved. Find a connection card in the bulletin, online connection cards at www.vcflongview.org/connect, or call 360-425-1061.
WE WOULD LOVE TO HEAR FROM YOU!
Upcoming Events

Daylight Savings Time Ends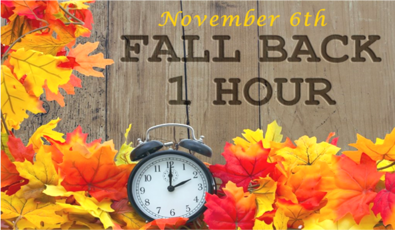 Sermon Guide
Walking Worthy of the Call: The Call of Ministry
November 5/6, 2022 
~~ Jesus is the Victorious Christ Distributing _______ ~~
‌
● Theme of Chapter 4: Walk in a manner worthy of Christ.
‌
I therefore, a prisoner for the Lord, urge you to walk in a manner worthy of the calling to which you have been called, . . . Eph. 4:1
‌
● Jesus gives gifts according to His _______________.
But grace was given to each one of us according to the measure of Christ's gift. Ephesians 4:7
○ We all receive _______ from Christ.
‌
○ Christ ____________ the gifts and how they are distributed.
‌
Having gifts that differ according to the grace given to us, let us use them: if prophecy, in proportion to our faith; if service, in our serving; the one who teaches, in his teaching; the one who exhorts, in his exhortation; the one who contributes, in generosity; the one who leads, with zeal; the one who does acts of mercy, with cheerfulness. Romans 12:6-8
‌
○ Diverse gifts are given in a _________ church.
‌
I therefore, a prisoner for the Lord, urge you to walk in a manner worthy of the calling to which you have been called, with all humility and gentleness, with patience, bearing with one another in love, eager to maintain the unity of the Spirit in the bond of peace. There is one body and one Spirit--just as you were called to the one hope that belongs to your call--one Lord, one faith, one baptism, one God and Father of all, who is over all and through all and in all. Ephesians 4:1-6
‌
● Jesus gives gifts as the victorious ________.
‌
Therefore it says, "When he ascended on high he led a host of captives, and he gave gifts to men." (In saying, "He ascended," what does it mean but that he had also descended into the lower regions, the earth? He who descended is the one who also ascended far above all the heavens, that he might fill all things.)" Ephesians 4:8-10
‌
You ascended on high, leading a host of captives in your train and receiving gifts among men, even among the rebellious, that the Lord God may dwell there. Psalm 68:18
‌
○ Jesus descended in His _____________.
‌
○ Jesus ascended in His ____________.
‌
● Jesus is the victorious Christ, distributing _________.
And he gave the apostles, the prophets, the evangelists, the shepherds and teachers, to equip the saints for the work of ministry, for building up the body of Christ, . . . Ephesians 4:11-12
○ ________ supplies the leaders a church needs.
‌‌
○ Each gifted ________ equips the saints.
‌‌
○ Each gifted _______ does the work of the ministry.
‌‌
● Some practical applications:
‌
○ Gifts of leadership must be used to ______ the saints.
○ All gifts must be used to build up the ________.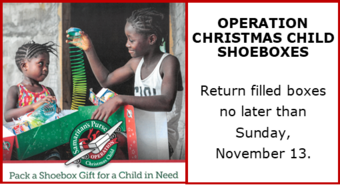 Welcome Lunch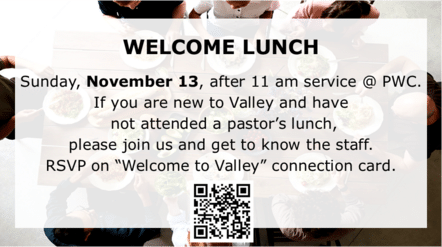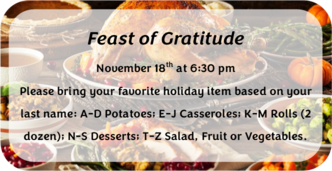 Prayer Request

Bible Reading Plan
Opportunity
OPPORTUNITY TO GIVE THROUGH OFFERINGS:
Mail to: Valley Christian Fellowship, 2911 Pacific Way, Longview, WA 98632
Online giving: https://vcflongview.org/give or log in to your Faithlife account. For assistance call 360-425-1061 Monday-Friday.
*Online giving fees are less when choosing the bank account option versus a bank card.
OTHER WAYS TO SUPPORT VALLEY
Amazon Smile: Register at https://smile.amazon.com. Connect your account to Valley Christian Fellowship. Each time you shop, go to https://smile.amazon.com and a percentage of the purchase will be donated to Valley.
Fred Meyers: Visit www.fredmeyer.com/account/communityrewards/enroll. Sign into your Fred Meyer account, type Valley Christian Fellowship and select the church. Each time you use your rewards card you'll be helping Valley.
Giving to community charities? Send gifts directly to charity at the following addresses:
*Community House, PO Box 403, Longview, WA 98632.
*Cowlitz County Chaplaincy, PO Box 2578 Longview, WA 98632
*Caring Pregnancy Center, 1010 Fir Street, Longview, WA 98632
Bless Every Home
https://blesseveryhome.com/signup/
Our address is: 2911 Pacific Way, Longview, WA 98632, USA