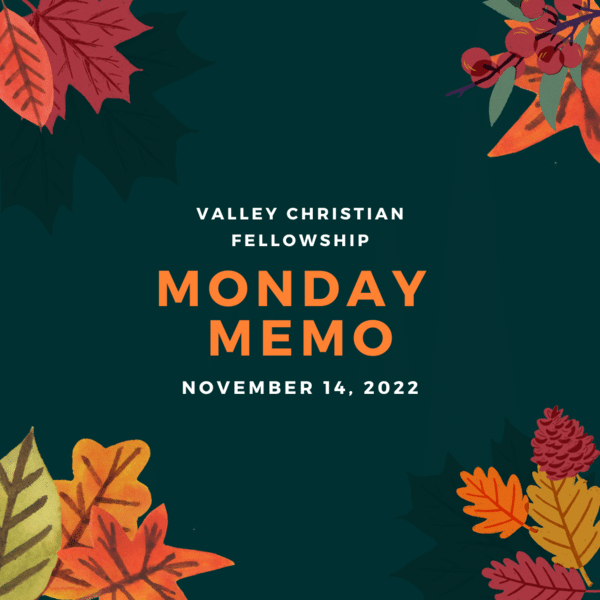 Monday Memo
November 14, 2022
Weekend Recap
Hey Valley,
Over the last three weeks we have learned that walking worthy of the call looks like:
All believers are to be united in care for one another.
All believers have a place in the church.
All believers are to grow in maturity.
These truths all emphasize the importance of both the community of the church and the individual in the church in such an encouraging way. As always, this past weekend's message can be found on our YouTube and the sermon outline is right here.
Our "Advent Guides" are now available for your families to use as you prepare for the holiday season. This resource if full of ideas to help make this time of year as meaningful as possible as we reflect on Christ and the gift he is to us. Also, we do have our Feast of Gratitude quickly approaching this coming Friday! I look forward to being together with you and remembering all that we have to be thankful for to the Lord!
Finally, if you would keep our team in prayer this week. We are gathering for the Northwest Baptist Convention's annual meeting. There is some business to do, but more than that, the next few days will be full of meeting with other pastors, encouraging them and being encouraged ourselves. Thank you!
Loving people toward Jesus,
Pastor Mike
Upcoming Events
Download
Friday, November 18th  •  6:30–8:30 pm
Weekly Bible Reading
Nov 14 Psa 120-121, Isa 37, 1 Pe 4
Nov 15 Deut 24, Isa 38, 1 Pe 5
Nov 16 Deut 25-26, Psa 122-123, 2 Pe 1
Nov 17 Deut 27, Isa 39, 2 Pe 2
Nov 18 124-125, Isa 40, 2 Pe 3
Hymn of the Month
Before the throne of God above
I have a strong and perfect plea;
a great High Priest whose name is Love,
who ever lives and pleads for me.
My name is graven on his hands,
my name is written on his heart.
I know that while in heav'n he stands
no tongue can bid me thence depart,
no tongue can bid me thence depart.
When Satan tempts me to despair
and tells me of the guilt within,
upward I look and see him there
who made an end of all my sin.
Because the sinless Savior died,
my sinful soul is counted free;
for God the just is satisfied
to look on him and pardon me,
to look on him and pardon me.
Behold him there, the risen Lamb,
my perfect, spotless righteousness,
the great unchangeable I AM,
the King of glory and of grace.
At one with him, I cannot die;
my soul is purchased by his blood.
My life is hid with Christ on high,
with Christ my Savior and my God,
with Christ my Savior and my God.
Our address is: 2911 Pacific Way, Longview, WA 98632, USA