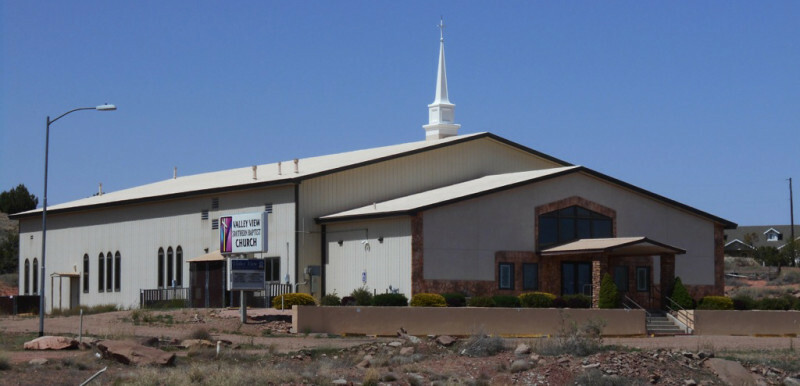 Valley View Southern Baptist Church
Proclaiming Jesus by Serving Others
Worship
prelude by Lynda Kwiatkowski
Welcome, Announcements & Prayer
Call to Worship
Hymn #215 "Majesty" 2x
Hymn #438 "Heaven Came Down" vs. 1-3
Hymn #203 "His Name Is Wonderful" 2x
Hymn #212 "I Love You, Lord" 2x
Offering
offertory by Lynda Kwiatkowski
Special Music
by Tim & Daphne Boudreaux and Candee Rinde
"Your Great Name"
Message
by Pastor Rick Rinde: "The 3 C's For Effective Ministry"
Concern: Matthew 23:37-38; John 6:38-40;
Compassion: John 11:30-37; 1 Cor. 9:19-22
Care: 1 John 3:16-18; Phil. 2:12-15
Invitation
Hymn #287 "Take My Life, Lead Me Lord"
Closing Prayer
postlude by Lynda Kwiatkowski
Announcements
Adam's Road Piano Concert: Today, February 24th at Calvary Baptist Church in Show Low at 6pm. For more information, see poster on the small bulletin board.
Widow's Mite—group for widows begins meeting March 9th at 11:00am here at church. They'll meet weekly and will be serving brunch.
Patricia Shirer "Going Beyond" Simulcast: Coming April 6th at First Baptist Church of Holbrook. Information is on the small bulletin Board.
Church Council Meeting: Sunday, March 3rd @5pm.
Business Meeting: Wednesday, March 6th @6pm.
The Week of Prayer for North American Missions is March 3rd-10th.
Annie Armstrong Easter Offering: We will collect the Annie Armstrong Easter offering beginning March 3rd through Easter Sunday. The national goal is $70 million. The church goal is $1,500. The brochures and envelopes will be put in the bulletins next week. More information can be found at anniearmstrong.com
Crocheting & Knitting: Tuesdays & Fridays @10am, Senior Center.
Let us get to know you!
Please take a moment to send us your information so that we may stay connected with you. Your information is carefully managed and protected.
How did you hear about us?