Sunday May 1, 2022
Join us this Sunday as we begin a study in the book of Psalms.
Sunday morning service begins at 10:15 AM
Join us in person or watch us live.
Meal Train for Renee
Let's gather around and support our sister Renee and her family with the Love of Christ through making a homemade meal (or providing meal gift cards) during this time of health challenges.
Providing meals will free Renee up to rest, and spend precious time and energy with the ones she loves and time to heal. Let's also keep her in our prayers, for healing, health, strength and encouragement from the Lord.
Are you new to WCBC?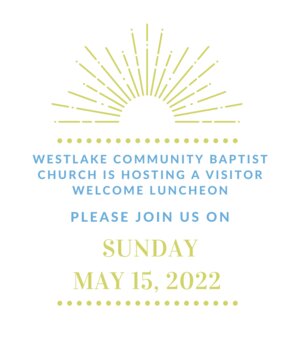 If you are new to our church within the last 6 months, please join us for a welcome luncheon. We are happy to see you with us and hope to get to know you better and encourage you in your walk with Christ.


Please RSVP ASAP to Trisha Catig
Text: 650-430-3671
Email: Trishaloren@gmail.com
Upcoming Events
Download
We celebrate Communion every first Sunday of the month. Following the morning service, we have a potluck. All are invited to bring food and/or attend in the downstairs Fellowship Hall.
Sunday, May 1st, 12 pm
Download
Luke 19:28-44 Join Zoom Meeting https://us02web.zoom.us/j/4333049976
Wednesday, May 4th  •  7–8 pm
Workshop for Women
Here is a great opportunity to take a workshop with the author of our current Bible study series for the Women's Group.
This is a ticketed event. Use the following links to view more information on the event.
Saturday May 7, 2022
9:00 AM – 4:00 PM
North Creek Church
2303 Ygnacio Valley Road
Walnut Creek, CA 94598
Following Christ!
Our address is: 99 Elmwood Dr, Daly City, CA 94015, USA