This Week at WCBC
June 21, 2022
Dear Church Family
You may already know that our state may experience a major shift with the likelihood that Roe vs. Wade will be overturned. If this were to occur, abortion laws would be left to individual states instead of federal law. An unborn child is a human, created in the image of God, that has full personhood within the womb. As Christians, we should be able to affirm the words of the prophet Jeremiah 1:5 "Before I formed you in the womb I knew you, and before you were born I consecrated you; I appointed you a prophet to the nations."
Abortion must be challenged with the following actions:
First, we ought to pray for the women and men that are lured by the deception of abortion as the optimum solution. We ought to pray for the hearts and minds of our culture to see the harm abortion produces not just to the child but to our soul as a people.
Secondly, we must provide solutions for women who feel overwhelmed with the cost and responsibility of caring for a child. We currently support Alpha Pregnancy Center, which helps families not only choose life but help support the mothers along the way.
Lastly, we can make our voice heard in public discussions. California has loud voices that support abortion, describing it as a woman's right to choose. But many of us, both Christian, and other religious and secular minds do not agree with accepting abortion as the best possible solution. It is within this third area that I encourage you to let your voice be heard within the public discourse. This Wednesday is such a day for me. I am taking part in the second annual CA March for Life in Sacramento. I am marching with a group of like-minded people that may not agree on some political/social issues but agree on the issue of Pro-Life.
Because I may not arrive back in time for Wednesday Night Bible Study, we will postpone it until next week. But please take the time to pray this week that righteousness will be exalted in our nation. Keep Alpha Pregnancy Center in prayer. Pray for the protection of those standing and marching for life in CA. I look forward to seeing you on Sunday.


Family Game Night on Thursday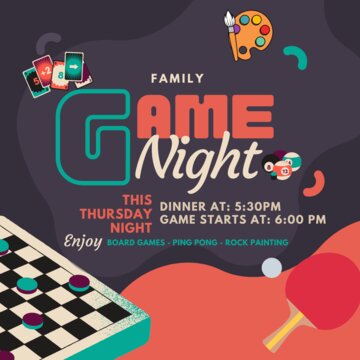 Come at 5:30 PM for dinner
Games start at 6 PM until 7 PM
All ages welcome
Upcoming Events
Download
Men's Fellowship Breakfast and Bible Study
Saturday, June 25th  •  9:00–10:30 am
Download
Join Zoom Meeting https://us02web.zoom.us/j/83194044796?pwd=MjNXM3Q2bUd6WDNNN2h0MW5kdEovQT09 Meeting ID: 831 9404 4796 Passcode: 266210
Saturday, June 25th  •  10:30 am – 12:00 pm
Download
Sunday Morning Worship
Sunday, June 26th  •  10:15–11:15 am
Our address is: 99 Elmwood Dr, Daly City, CA 94015, USA