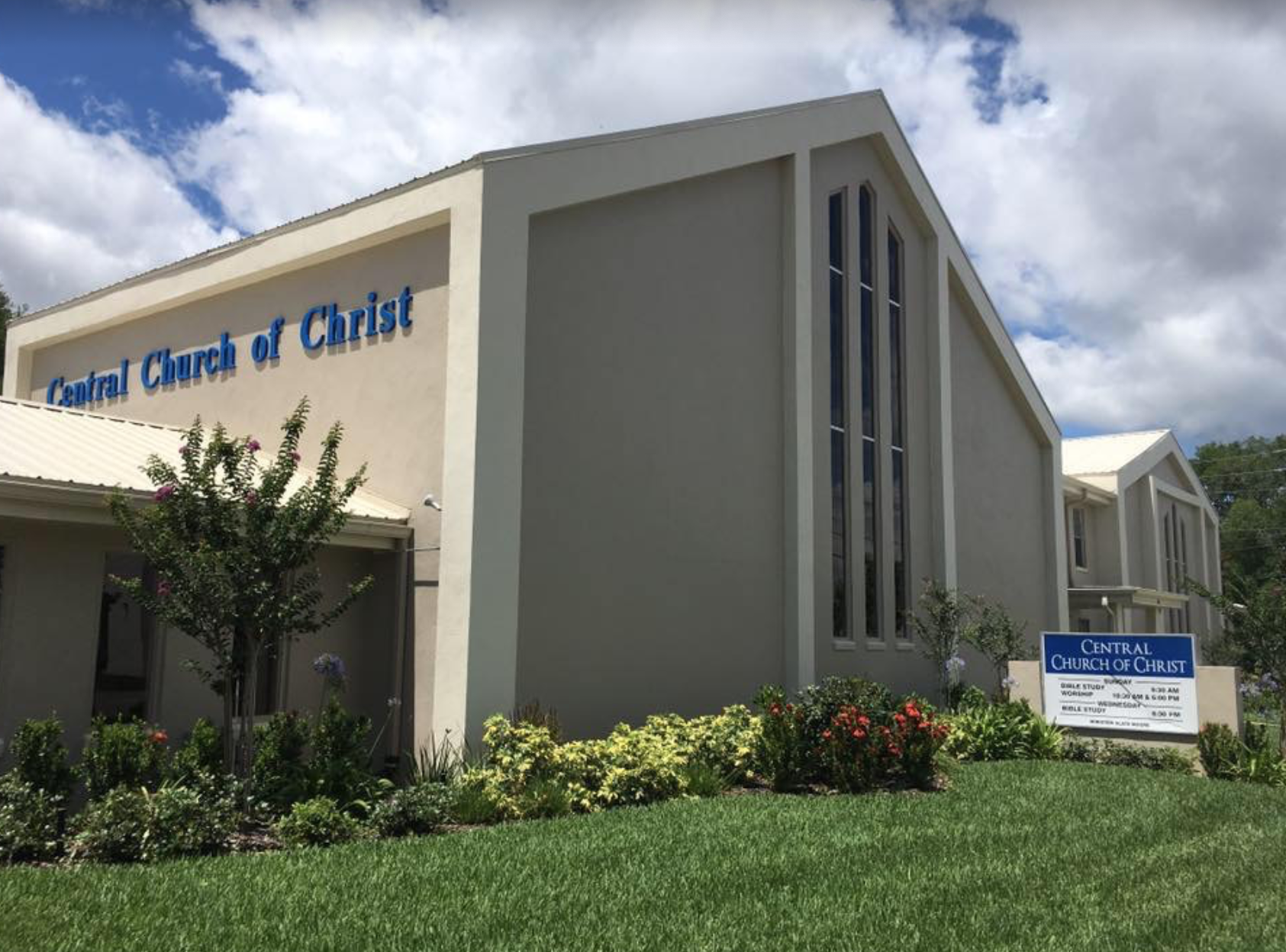 CENTRAL CONNECTIONS BULLETIN 7/10/2022
CENTRAL CONNECTIONS
OUR MISSION:
TO LEAD PEOPLE INTO A GROWING RELATIONSHIP WITH JESUS
MAKE IT PERSONAL
Central Church of Christ
Bulletin July 10, 2022
SUMMER SERIES WELCOME DR DANE BOYLES
Dr. Dane Boyles is a native of Lubbock, TX. Besides serving in ministry, he also has served as a missionary, as a chaplain, and as a professional mediator. His motivation, ability to teach the living Word of God, and his Bible-inspired way of ministering the gospel to God's people and the world captivate people of all ages. He is married to Leslie Kay Boyles of Austin, TX. They have five grown children. Dane is a 1993 graduate of the Sunset International Bible Institute in Lubbock, Texas. He earned B.A., M.A,. and Ph.D. degrees in Spanish and Romance Linguistics from Texas Tech University. He also earned a Master of Arts in Religion from Abilene Christian University, a Master of Science in Bible and Ministry from Lubbock Christian University, and a Doctor of Ministry (2009) from Austin Presbyterian Theological Seminary. Dane is a board certified chaplain by the Association of Certified Christian Chaplains (2019) and the Spiritual Care Association (2019).
Dane's love for God illuminates and radiates with an Agape' love for God's people and those yet to believe in Jesus. He is known as the preacher that makes the complex understandable and the mundane meaningful.
"I live for Jesus, serve Christ, and know it's all about Jesus and the gospel. My purpose in ministry is to incarnate what the LORD told Gideon, "The Lord is with you mighty warrior" (Judges 6:12)."
FAMILY MATTERS
90th BIRTHDAY
RUBY BOBICHHIO WILL BE TURNING 90 WEDNESDAY JULY 20TH. HER FAMILY WILL BE SUPPLYING A BIRTHDAY CAKE AND ICE CREAM AT 6 PM ON JULY 20TH. LETS SEE IF WE CAN SEND HER 90 BIRTHDAY CARDS.
IN SYMPATHY
MILLIE GENTRY PASSED AWAY ON FRIDAY. PLEASE KEEP HER FAMILY IN YOUR PRAYERS.
IN SYMPATHY
PEDRO VAZQUEZ (STEVE DEJESUS'S FATHER) PASSED AWAY ON THURSDAY NIGHT. PLEASE KEEP THEIR FAMILY IN YOUR PRAYERS.
FAMILY FUN FEST EVERYONE IS INVITED
WE WILL HAVE OUR FIRST FAMILY FUN FEST AT THE BUILDING ON SUNDAY EVENING JULY 31ST FROM 5 TO 8 PM DINNER WILL BE PROVIDED. PLEASE SIGN UP AT THE WELCOME CENTER.
WEDNESDAY NIGHT SUMMER DESSERTS
THIS WEDNESDAY WE WILL BE CELEBRATING ALL JULY BIRTHDAYS.
GRIEF CLASS
IF YOU KNOW ANYONE WHO WOULD BE ENCOURAGED BY THIS CLASS, WE WILL BEGIN CLASS ON TUESDAYS FROM 6 TO 8 PM BEGINNING MAY 24TH FOR 13 WEEKS TAUGHT BY JANE GREEN.
SUNDAY NIGHT BOWLING
SUNDAY NIGHT BOWLING WILL BE SUNDAY JULY 10 & JULY 24TH AT 7 PM AT CYPRESS LANES. PLEASE SIGN UP AT THE WELCOME
FREE FOOD GIVEAWAY
FREE FOOD GIVEAWAYS ON JULY 13TH AND JULY 26TH FROM 11 TO 1.
FOOD BAGS FOR THE MISSION
WE WILL BE COLLECTING FOOD FOR THE MISSION ON THE 1ST SUNDAY OF EACH MONTH . PLEASE BRING YOUR BAGS IN BY AUGUST 7.
ESTHER WHITEHEAD WOULD LOVE TO RECEIVE PHONE CALLS.
YOUTH EVENTS
LITTLE YOUTH MOVIE NIGHT AT THE CHURCH BUILDING AT 6 PM ON SATURDAY JULY 23RD
LITTLE YOUTH POOL PARTY AT THE HOME OF MACKENZIE BISHOP ON WEDNESDAY AUGUST 3RD AT 11 AM.
MIDDLE/HIGH
CAR WASH/BAKE SALE FROM 9 TO 12 AT THE CHURCH BUILDING ON JULY 16.
SUMMER YOUTH TRIP JULY 17 THRU 23RD COST IS $300. $150 IS DUE NOW.
MARK YOUR CALENDERS SONQUEST WILL BE AT THE ROSEN CENTER SEPTEMBER 2-4. REGISTRATION AND HOTEL RESERVATIONS NEED TO BE MADE SOON IF YOU PLAN ON ATTENDING THIS A ONCE A YEAR EVENT.
CONGRATULATIONS
GARRETT GORY RECEIVED THE STEPHEN POPE MEMORIAL SERVICE AWARD FOR THE CAMPER THAT BEST EXEMPLIFIES SERVICE. HIS MOTHER IS MORE PROUD OF THIS THAN HIM GRADUATING FRWITH HONORS.
PRAYER AND PRAISE REPORT
JESSICA CRUZ - (FRIEND OF DAWY PURVIS) CANCER RETURNED SHE WILL BE UNDERGING CHEMO AND RADIATION
ANNE MARIE (RON'S DAUGHTER) RECOVERING SURGERY
HAROLD LASSETER - HOME
PAUL BLUE-HOME FROM HOSPITAL REHAB AT HOME
GARY SUMMERS - SURGERY TO PUT A SHUNT IN
JOHN - SHARON COOKS SON RECOVERING SURGERY
CHARLIE BENEDICT - HEALTH ISSUES
NANCY SMITH - HEALTH
JUNE LASSETER - RECOVERING KNEE SURGERY
SCOTT & STEVE (STEVE AND SHIRLEY GENTON'S SONS)
PRAYERS FOR THEIR ADDICTIONS
MARSHA (DOROTHY BROWN AUNT) CHEMO54
CHARLOTTE MCNEELY - DAVID BARTON'S SISTER UNDER HOSPICE
PETE DESTASIO (EDNA JAYES BOSS) BLADDER AND LUNG CANCER
TROY VONADA- (EDNA JAYES DAD) HEALTH
ONLINE GIVING
REMEMBER ESPECIALLY DURING THE SUMMER AND EVERYONE TRAVELING WE OFFER ONLINE GIVING SO WE CAN MEET OUR BUDGET. YOU CAN GO TO WHCENTRAL.CHURCH AND SET UP AN ACCOUNT ON ONLINE GIVING.
ATTENDANCE
IN PERSON 97
ONLINE VIEWS 43
COME JOIN US FOR
SUNDAY MORNING BIBLE CLASS BEGINS AT 9:30 AM.
IN PERSON WORSHIP SERVICE AT 10:30 SLATE MOORE
KINGDOM KIDS @ 11:00
ONLINE WORSHIP AT 10:45
OUR SERVICES ARE PUBLICLY BROADCAST
WEDNESDAY NIGHT JULY BIRTHDAYS 6:00 PM
WEDNESDAY NIGHT CLASS
SUMMER SERIES 6:30
ALL GRADES FROM JR HIGH THRU ADULTS WILL MEET IN THE FELLOWSHIP HALL FOR THE SUMMER SERIES
JULY 10 BOWLING 7 PM
July 12 Grief Class 6 pm
July 13 Middle/High Firehouse
JULY 16 CAR WASH & BAKE SALE
July 19 Grief Class 6 pm
July 17 -23 Youth trip
July 23 Little Youth Movie Night @ church
July 26 Grief Class 6 pm
July 27 Middle/High Panda Express
July 31 Family Fun Fest 5 pm
August 3 Little Youth Back to School Pool Bash @ 11
September 2-4 SonQuest @ Rosen Center
AREA EVENTS
Summer Camp 2022 Central Florida Bible Camp @ Eustis Fl There are 8 Sessions this summer including a new College Camp. Register @ www.cfbiblecamp,org if you are interested
*AREA EVENTS *CHECK OUT THE BULLETIN BOARD FOR ANY INFORMATION ON THESE EVENTS
Let us get to know you!
Please take a moment to send us your information so that we may stay connected with you. Your information is carefully managed and protected.
How did you hear about us?