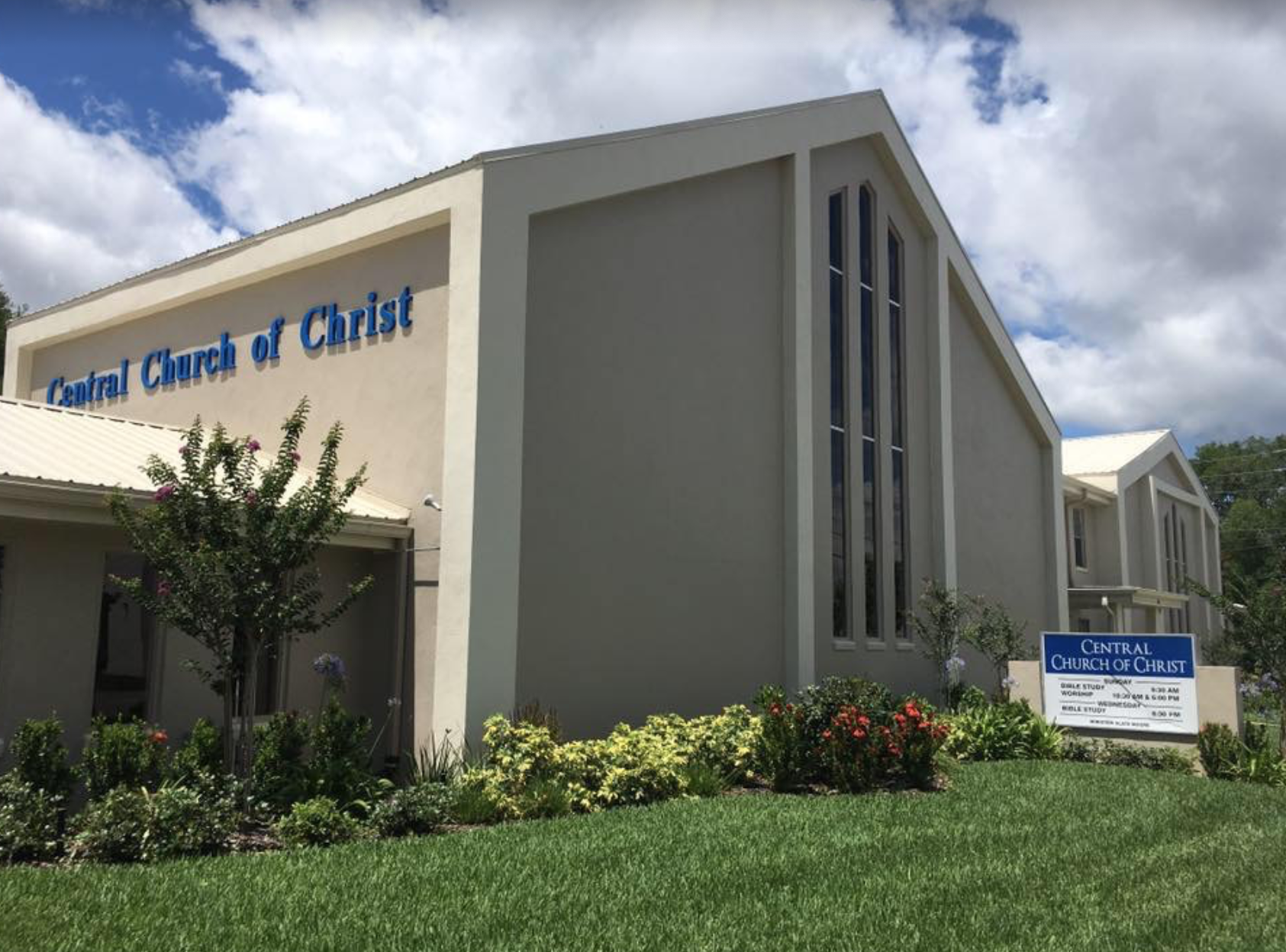 CENTRAL CONNECTIONS BULLETIN 7/31/2022
CENTRAL CONNECTIONS
OUR MISSION:
TO LEAD PEOPLE INTO A GROWING RELATIONSHIP WITH JESUS
MAKE IT PERSONAL
Central Church of Christ
Bulletin JULY 31, 2022
SUMMER SERIES WELCOME VIC PRUETT
Vic Pruett is the preacher at the Holy Hill Church of Christ is Daytona Beach since 2011. He has worked in ministry for over 20 years in Mankato, MN, Vero Beach, FL, White House, Tn and Holly Hill Fl.
He has been married to Stacy since 1996. They have two awsome kids, Abby who graduated high school in 2020 and Jack who is in 11th Grade. Vic is a graduate of AIM, Sunset, Oklahome Christian University a graduate with a MDIV degree from ACU.
He is from Texas, and he writes.Oh how the BBQ & the Tex-Mex there is unmatched. He love his Texas teams.Houston Texans, Rockets, Astros, and UT Longhorns. Vic is know for the occational slipping in of Star Wars references into most of his sermons. His passion for God's word and unique ability to apply it to everyday living makes his sermons dynamic and challenging.
FAMILY MATTERS
TONIGHT
WE WILL HAVE OUR FIRST FAMILY FUN FEST
MAKE SURE YOU ARE THERE
DINNER BEGINS AT 5 PM
FOOD BAGS FOR THE MISSION
WE WILL BE COLLECTING FOOD FOR THE MISSION ON THE 1STSUNDAY OF EACH MONTH . PLEASE BRING YOUR BAGS IN BY AUGUST 7.
WEDNESDAY NIGHT SUMMER DESSERTS
THIS WEDNESDAY AT 6 PM. IF YOU WOULD LIKE TO BRING A DESSERT PLEASE SIGN UP AT THE WELCOME CENTER.
GRIEF CLASS
IF YOU KNOW ANYONE WHO WOULD BE ENCOURAGED BY THIS CLASS, WE WILL BEGIN CLASS ON TUESDAYS FROM 6 TO 8 PM WHICH BEGAN ON MAY 24THFOR 13 WEEKS LAST CLASS WILL BE AUGUST 23RD TAUGHT BY JANE GREEN.
WE ARE LOOKING AT STARTING DINNERS ON WEDNESDAY NIGHTS. WE WILL NEED VOLUNTEERS TO HELP MAKE A DINNER OR BE IN CHARGE OF A DINNER AND A CLEAN UP CREW, IF YOU CAN HELP PLEASE SEE BECKY BISHOP OR SIGN UP AT THE WELCOME CENTER ALL INGREDIENTS WILL BE AT THE BUILDING ALONG WITH THE MENU.
SPONSORS NEEDED
IF YOU WOULD LIKE TO SPONSOR A KID TO GO TO SONQUEST, PLEASE EARMARK YOUR CHECKS SONQUST AND GIVE TO EITHER BECKY OR LUKE OR YOU MAY PUT ONLINE IN YOUTH.
YOUTH EVENTS
LITTLE YOUTH
LITTLE YOUTH POOL PARTY AT THE HOME OF MACKENZIE BISHOP ON WEDNESDAY AUGUST 6TH AT 11 AM.
MIDDLE/HIGH
SONQUEST
SONQUEST WILL BE AT THE ROSEN CENTER SEPTEMBER 2-4. COST OF TRIP IS $112 WHICH INCLUDES HOTEL FOR TWO NIGHTS, REGISTRATION AND T SHIRT. $50 is due today with the rest due before August 18th. BRING EXTRA MONEY FOR FOOD.
MIDDLE/HIGH WORK CAMP
MIDDLE/HIGH WORK CAMP WILL BE AUGUST 2 - 4 FROM 8 AM TO 8PM PLEASE LET LUKE KNOW IF YOU PLAN ON GOING. THIS WILL BE A WORK CAMP DURING THE DAY.
PRAYER AND PRAISE REPORT
JESSICA CRUZ - (FRIEND OF DAWY PURVIS) CANCER RETURNED SHE WILL BE UNDERGOING CHEMO AND RADIATION
HAROLD LASSETER - HOME
ESTHER WHITEHEAD - PHONE 863-247-0168
PAUL BLUE-HEALTH
GARY SUMMERS - RECOVERING SHUNT SURGERY
CHARLIE BENEDICT - HEALTH ISSUES
NANCY SMITH - HEALTH
JUNE LASSETER - RECOVERING KNEE SURGERY
SCOTT & STEVE (STEVE AND SHIRLEY GENTON'S SONS)
PRAYERS FOR THEIR ADDICTIONS
MARSHA (DOROTHY BROWN AUNT) CHEMO
CHARLOTTE MCNEELY - DAVID BARTON'S SISTER UNDER HOSPICE
PETE DESTASIO (EDNA JAYES BOSS) BLADDER AND LUNG CANCER IN WINTER HAVEN HOSPITAL IN A LOT OF PAIN
TROY VONADA- (EDNA JAYES DAD) HEALTH
ONLINE GIVING
REMEMBER ESPECIALLY DURING THE SUMMER AND EVERYONE TRAVELING WE OFFER ONLINE GIVING SO WE CAN MEET OUR BUDGET. YOU CAN GO TO WHCENTRAL.CHURCH AND SET UP AN ACCOUNT ON ONLINE GIVING.
ATTENDANCE
IN PERSON
ONLINE VIEWS
CENTRAL UPCOMING EVENTS
August 2 - 4 M/H Work Camp 8 am to 8 pm
August 2 Grief Class
August 3 Little Youth Back to School Pool Bash @ 11
August 9 Grief Class
August 16 Grief Class
August 23 Grief Class
August 27 Middle/High Game Night 6 - 8
September 2-4 SonQuest @ Rosen Center