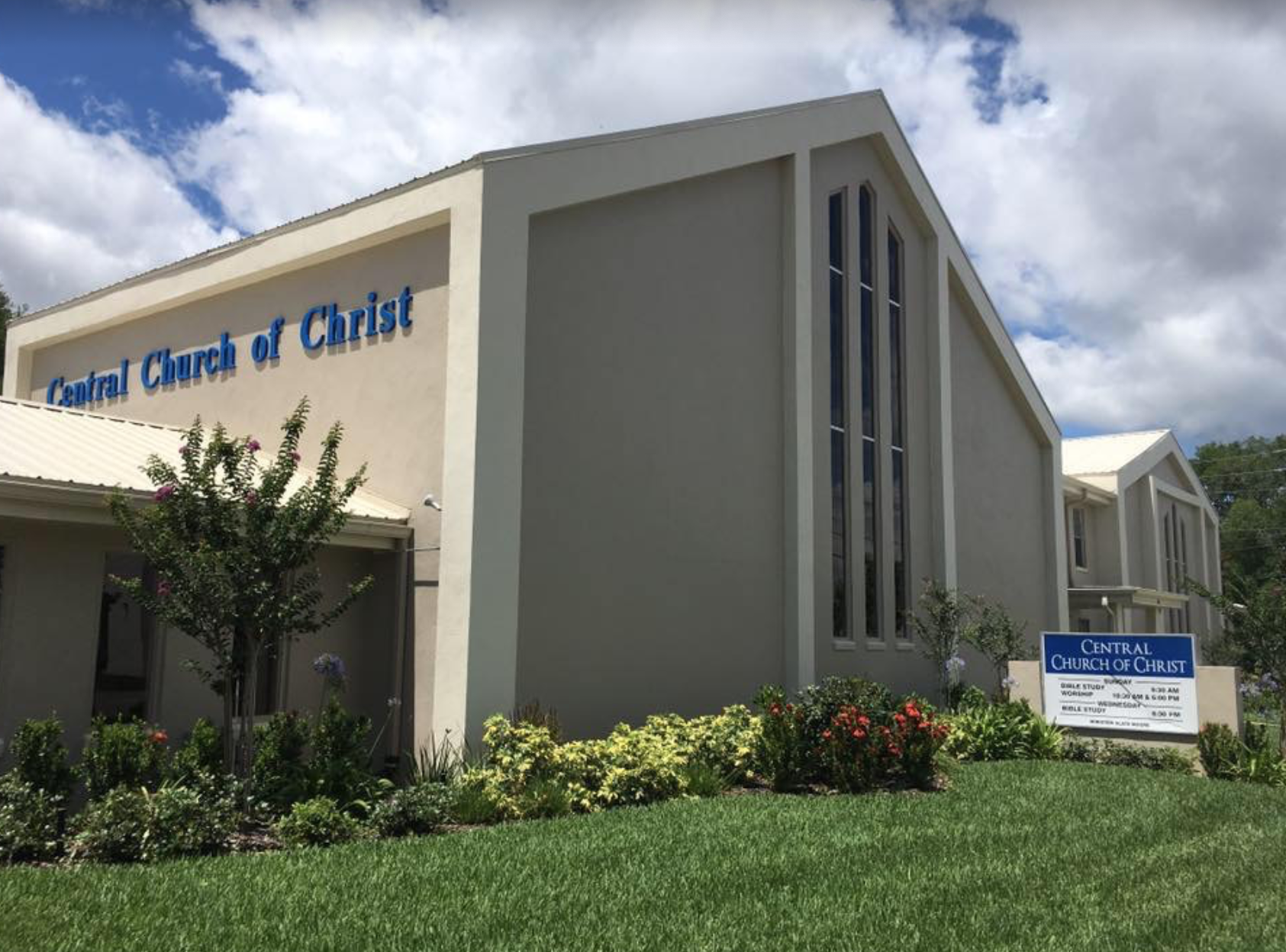 CENTRAL CONNECTIONS BULLETIN 9/11/2022
CENTRAL CONNECTIONS
OUR MISSION:
TO LEAD PEOPLE INTO A GROWING RELATIONSHIP WITH JESUS
MAKE IT PERSONAL
Central Church of Christ
Bulletin September 11, 2022
MEN'S SERVANT
LEADERSHIP CLASS
BEGINS TONIGHT
FROM 4 TO 5 PM
ALL MEN OF ANY AGE ARE INVITED
FAMILY MATTERS
GRIEF CLASS
GRIEF CLASS NEW CLASS SEPTEMBER 14TH AND RUN THRU DECEMBER 14THTHIS CLASS WILL BE FROM 10 - 12 AND WILL BE TAUGHT BY JANE GREEN. IF YOU KNOW ANYONE WHO WOULD BE ENCOURAGED BY THIS CLASS PLEASE LET THEM KNOW.
BOWLING
EVERYONE IS INVITED TO JOIN US FOR BOWLING AT CYPRESS LANES AT 7 PM ON SEPTEMBER 11TH AND SEPTEMBER 25TH. PLEASE SIGN UP AT THE WELCOME CENTER.
IN SYMPATHY
FRANK DESIMONE (GIGI CERDANS DAD) PASSED AWAY THIS WEEK. PLEASE KEEP HER AND HER FAMILY IN YOUR PRAYERS.
REJOICE
GRETA CARPENTER WAS BAPTIZED INTO CHRIST BY SLATE MOORE THIS PAST SUNDAY. PLEASE PRAY SHE HAS A LONG AND FAITHFUL WALK WITH THE LORD.
LADIES BIBLE CLASS
LADIES BIBLE CLASS BEGINS SEPTEMBER 20TH @ 10:30 AM. THEY WILL BE STUDYING THE BOOK OF PHILIPPIANS. "STRESS-FREE LIVING" PLEASE JOIN US AND BRING A FRIEND.
NEW ADDRESS
WAYNE AND JULIE STULTS
124 LAKE REGION CIRCLE
WINTER HAVEN, FL 33881
PLEASE UPDATE YOUR DIRECTORIES
WEDNESDAY BIRTHDAY NIGHT
THERE WILL BE A BIRTHDAY CAKE FOR EVERYONE WHO HAS A BIRTHDAY IN SEPTEMBER
WE WILL HAVE WEDNESDAY NIGHT DESSERTS & COFFEE AT 6 PM. IF YOU WOULD LIKE TO BRING A DESSERT EITHER HOMEMADE OR BOUGHT, PLEASE SIGN UP AT THE WELCOME CENTER.
FOOD BAGS FOR THE MISSION
WE WILL BE COLLECTING FOOD FOR THE MISSION ON THE 1ST SUNDAY OF EACH MONTH . PLEASE BRING YOUR BAGS IN BY OCTOBER 2ND.
YOUTH EVENTS
MIDDLE/HIGH
GAME NIGHT FROM 6 TO 8 PM AT THE CHURCH BUILDING ON SEPTEMBER 24TH.
BABY SHOWER FOR BABY GRACIE IZABELLA KAYSER WILL BE ON OCTOBER 8TH AT 1:30 SHE IS REGISTERED UNDER SANDRA KAYSER AT WALMART.
PRAYER AND PRAISE REPORT
DANNY JAYE - RECOVERING BACK SURGERY
JOHN MISTARK (CINDY PREMOS DAD) COVID, LUNG FIBROSIS AND A RARE FORM OF CANCER
JESSICA CRUZ - (FRIEND OF DAWN PURVIS) CANCER
SHE HAS A GROWTH ON THE INSIDE AND OUTSIDE OF HER SKULL SHE WILL BE UNDERGOING RADIATION
CHERYL CULPEPPER -(FRIEND OF JILL STULTS) NON-CANCER BRAIN TUMOR SURGERY SEPT 14
HAROLD & JUNE LASSETER - HEALTH
PAUL BLUE-HEALTH
CHARLIE BENEDICT - HEALTH ISSUES
NANCY SMITH - HEALTH
SCOTT & STEVE (STEVE AND SHIRLEY GENTON'S SONS)
PRAYERS FOR THEIR ADDICTIONS
MARSHA (DOROTHY BROWN AUNT) CHEMO
CHARLOTTE MCNEELY - DAVID BARTON'S SISTER UNDER HOSPICE
TROY VONADA- (EDNA JAYES DAD) HEALTH
ONLINE GIVING
WE OFFER ONLINE GIVING AT SIMPLEGIVE. IF YOU ARE INTERESTED IN SETTING THIS UP GO TO WWW.WHCENTRAL.CHURCHAND CLICK ON GIVING. YOU WILL SET UP YOUR OWN PASSWORD AND ACCOUNT AND WHAT FUND YOU WANT TO GIVE TO. YOU CAN ALSO PAY FOR ANY YOUTH EVENTS THIS WAY.
ATTENDANCE
IN PERSON 101
ONLINE VIEWS 58
COME JOIN US FOR
SUNDAY MORNING BIBLE CLASS BEGINS AT 9:30 AM.
IN PERSON WORSHIP SERVICE AT 10:30 LUKE REYNOLDS
KINGDOM KIDS @ 11:00
ONLINE WORSHIP AT 10:45
OUR SERVICES ARE PUBLICLY BROADCAST
WEDNESDAY NIGHT DESSERT 6:00 PM
WEDNESDAY NIGHT CLASS
6:30
MIDDLE/HIGH CLASS UPSTAIRS
WEDNESDAY NIGHT ELEMENTARY CLASS AND PRE SCHOOL-CLASS WILL BE UPSTAIRS
BABY CLASS DOWNSTAIRS
UPCOMING EVENTS
September 11 Men's Servant Leadership Class @ 4pm
September 11 Bowling @ Cypress Lanes 7 pm
September 14 Grief Share Class 10 - 12
September 18 Men's Servant Leadership Class 4pm
September 20 Ladies Class Begins at 10:30 am
September 21 Grief Share Class 10-12
September 24 M/H Game Night
September 25 Men's Servant Leadership Class @ 4pm
September 25 Bowling @ Cypress Lanes 7 pm
September 27 Ladies Class @ 10:30
September 28 Grief Share Class
October 2 Men's Servant Leadership Class @ 4pm
October 8thBaby Shower for Baby Kayser 1:30 pm
October 9 Men's Servant Leadership Class @ 4pm
October 16 Men's Servant Leadership Class @ 4pm
Let us get to know you!
Please take a moment to send us your information so that we may stay connected with you. Your information is carefully managed and protected.
How did you hear about us?