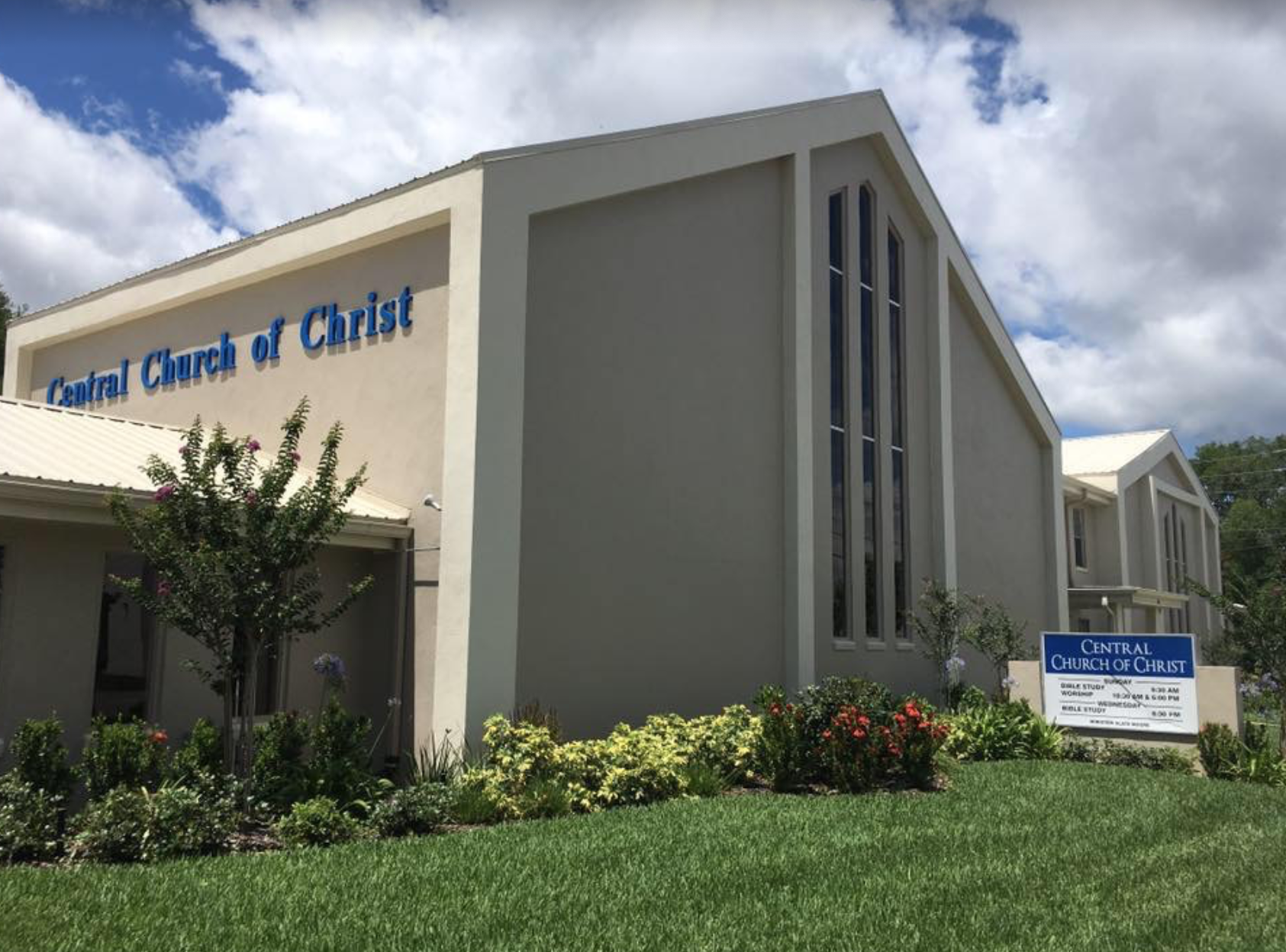 CENTRAL CONNECTIONS BULLETIN 10/2/2022
CENTRAL CONNECTIONS
OUR MISSION:
TO LEAD PEOPLE INTO A GROWING RELATIONSHIP WITH JESUS
MAKE IT PERSONAL
Central Church of Christ
Bulletin October 2, 2022
PRAYERS ANSWERED THAT WE ARE ALL SAFE FROM THE HURRICANE.
A GREAT BIG THANK YOU GOES TO RON DESCOTEAUX FOR OPENING THE BUILDING AND STAYING WITH THE PEOPLE WHO NEEDED SHELTER FROM MOBILE HOMES. HE COOKED AND FED THEM AND TOOK CARE OF THEM FOR 3 DAYS.
ALSO A BIG THANK YOU TO FRANK ANDERSON FOR CLEANING OUT THE DRAIN IN THE COURTYARD OTHERWISE WE WOULD HAVE HAD FLOODING IN THE KINGDOM KIDS CLASSROOM.
FAMILY MATTERS
FOOD BAGS FOR THE MISSION
WE WILL BE COLLECTING FOOD FOR THE MISSION ON THE 1ST SUNDAY OF EACH MONTH . PLEASE BRING YOUR BAGS IN BY OCTOBER 2ND
MENS LEADERSHIP CLASS
FOR ALL MEN OF ANY AGE
FROM 4 TO 5 PM SUNDAYS
GRIEF CLASS
GRIEF CLASS EVERY WEDNESDAY FROM 10 - 12 IT WILL RUN THRU DECEMBER 14TH THE CLASS WILL BE TAUGHT BY JANE GREEN. IF YOU KNOW ANYONE WHO WOULD BE ENCOURAGED BY THIS CLASS PLEASE LET THEM KNOW. JANE GREEN HAS BEEN IN THE HOSPITAL WITH KIDNEY ISSUES SO IF SHE IS ABLE TO BE THERE SHE WILL BE. PLEASE WATCH FACEBOOK FOR UPDATES OR CALL BECKY BISHOP 863-860-3644 WEDNESDAY MORNING IF YOU ARE UNSURE
BOWLING
EVERYONE IS INVITED TO JOIN US FOR BOWLING AT CYPRESS LANES AT 7 PM ON OCTOBER 9TH AND OCTOBER 23RD. PLEASE SIGN UP AT THE WELCOME CENTER. A CHALLENGE TO THE YOUTH GROUP TO COMPETE AGAINST THE ADULT BOWLERS HAS BEEN MADE FOR OCTOBER 9TH COST IS $12
LADIES BIBLE CLASS
LADIES BIBLE CLASS WILL BE EVERY TUESDAY@ 10:30 AM. THEY WILL BE STUDYING THE BOOK OF PHILIPPIANS. "STRESS-FREE LIVING" PLEASE JOIN US AND BRING A FRIEND.
WEDNESDAY DESSERTS
WE WILL HAVE WEDNESDAY NIGHT DESSERTS & COFFEE AT 6 PM. IF YOU WOULD LIKE TO BRING A DESSERT EITHER HOMEMADE OR BOUGHT, PLEASE SIGN UP AT THE WELCOME CENTER.
TRIP TO JERUSALEM
IF YOU WOULD LIKE TO CONTRIBUTE TOWARD SLATE AND JULIE MOORES TRIP TO JERUSALEM, PLEASE SEE JACK MCDONALD OF EARMARK YOUR CHECK AND PLACE IN COLLECTION PLATE THERE IS ALSO A CATEGORY ON SIMPLEGIVE SCROLL DOWN TO THE BOTTOM OF THE PLACES TO GIVE.
YOUTH EVENTS
KINGDOM KIDS
ALL KIDS POTTY TRAINED THRU 5TH GRADE WILL HAVE KINGDOM KIDS @ 11
MIDDLE/HIGH AFTER CARE PROGRAM
MIDDLE/HIGH CAN MEET FOLLOWING THE WEDNESDAY NIGHT CLASS UNTIL 930 PM.
MIDDLE/HIGH
MINI GOLF MONDAY ON OCTOBER 3RD FROM 6 TO 8 PM COST IS $20
MIDDLE/HIGH BOWLING CHALLENGE
THE SUNDAY NIGHT BOWLING GROUP HAS CHALLENGED THE MIDDLE/HIGH KIDS TO A GAME OR TWO OF BOWLING ON OCTOBER 9TH. COST IS $12
PRAYER AND PRAISE
REPORT
DANNY JAYE - RECOVERING BACK SURGERY
MACKENZIE BISHOP - TONSILS REMOVED ON OCTOBER 6
JANE GREEN= WINTER HAVEN HOSPITAL DOING DIALYSIS
LUCY DESIMONE - POSSIBLE CHEMO
CINDY PREMO - HEALTH
JOE RIOS - CHRISTINA CAMPBELLS UNCLE) FELL HAS A BRAIN BLEED
JESSICA CRUZ - (FRIEND OF DAWN PURVIS) CANCER
SHE HAS A GROWTH ON THE INSIDE AND OUTSIDE OF HER SKULL SHE WILL BE UNDERGOING RADIATION
CHERYL CULPEPPER -(FRIEND OF JILL STULTS) RECOVERING SURGERY
HAROLD & JUNE LASSETER - HEALTH
PAUL BLUE-HEALTH
CHARLIE BENEDICT - HEALTH ISSUES
NANCY SMITH - HEALTH
SCOTT & STEVE (STEVE AND SHIRLEY GENTON'S SONS)
PRAYERS FOR THEIR ADDICTIONS
MARSHA (DOROTHY BROWN AUNT) CHEMO
CHARLOTTE MCNEELY - DAVID BARTON'S SISTER UNDER HOSPICE
TROY VONADA- (EDNA JAYES DAD) HEALTH
ONLINE GIVING
WE OFFER ONLINE GIVING AT SIMPLEGIVE. IF YOU ARE INTERESTED IN SETTING THIS UP GO TO WWW.WHCENTRAL.CHURCHAND CLICK ON GIVING. YOU WILL SET UP YOUR OWN PASSWORD AND ACCOUNT AND WHAT FUND YOU WANT TO GIVE TO. YOU CAN ALSO PAY FOR ANY YOUTH EVENTS THIS WAY.
ATTENDANCE
IN PERSON 153
ONLINE VIEWS 57
COME JOIN US FOR
SUNDAY MORNING BIBLE CLASS BEGINS AT 9:30 AM.
IN PERSON WORSHIP SERVICE AT 10:30 SLATE MOORE
KINGDOM KIDS @ 11:00
ONLINE WORSHIP AT 10:45
OUR SERVICES ARE PUBLICLY BROADCAST
WEDNESDAY NIGHT DESSERT 6:00 PM
WEDNESDAY NIGHT CLASS
6:30
MIDDLE/HIGH CLASS UPSTAIRS
WEDNESDAY NIGHT ELEMENTARY CLASS AND PRE SCHOOL-CLASS WILL BE UPSTAIRS
BABY CLASS DOWNSTAIRS
UPCOMING EVENTS
October 2 Men's Servant Leadership Class @ 4pm
October 3 Mini Golf 6 to 8pm
October 4 Ladies Bible Class @ 10:30
October 5 Grief Share Class 10 -12
October 8th Baby Shower for Baby Kayser 1:30 pm
October 9 Men's Servant Leadership Class @ 4pm
October 9 Bowling @ Cypress Lanes 7 pm
October 11 Ladies Bible Class @ 10:30
October 12 Grief Share Class 10-12
October 16 Men's Servant Leadership Class @ 4pm
October 18 Ladies Bible Class @ 10:30
October 19 Grief Share Class 10-12
October 22 Teen Halloween Party @ church 6-8 pm
October 23 Bowling @ Cypress Lane 7pm
October 25 Ladies Bible Class @ 10:30
October 26 Grief Share Class 10-12
October 30 Family Fun Fest 5-8 pm
Let us get to know you!
Please take a moment to send us your information so that we may stay connected with you. Your information is carefully managed and protected.
How did you hear about us?