Transformed Church Presentations—Run by Preteens?
Calvary Chapel's Story

Transformed Church Presentations—Run by Preteens?
Calvary Chapel's Story
7
Volunteers trained
3
Sessions to train
15
Minutes to build
Bivocational pastor Ged West doesn't have time to spare, but his difficult presentation software was eating up hours every month for a lackluster result. After a worship leader friend told him, "Whoa, this is archaic. You guys got to get switched over to Faithlife Proclaim," Pastor Ged and Calvary Chapel Montesano haven't looked back. Ged's son Gavin learned Proclaim when he was just seven years old, and he's helped train volunteers to create complete presentations in minutes, publish them to the church website, and more.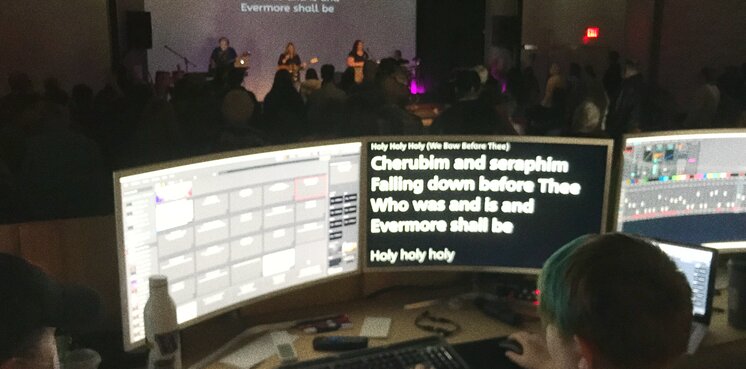 ---
Calvary Chapel's Ministry Challenges
Before Proclaim, creating slides was so difficult that in Gavin's words, "virtually no one" knew how to do it. In fact, it took Pastor Ged or his wife (who also serves as director of worship) an hour to create just song slides.

And slides weren't the only thing that was difficult.

Uploading sermon audio to the church website was a complicated multi-step process eating up 45 minutes every week.

Because of all the difficulty, Ged didn't feel like he had time to train volunteers—a recipe for burnout.

What's just as bad? Since Calvary only used slides for the songs, people could more easily drift off during the sermon. Gavin says, "Before Proclaim I saw people literally dozing off in the middle of the message."
---
How Calvary Chapel Overcame Their Challenges
Calvary Chapel chose a church presentation software that could help them tear down the hurdles of time and difficulty.


Because of Proclaim's auto-formatting templates and how easy it was to use, they could finally train volunteers. Ged says, "The [ability to create slides from a] template was a game changer."
Sermon audio + slides could be uploaded in 2 minutes instead of 45. "That was worth the cost of the whole thing to me," Ged says.
In an hour, someone could create slides for four entire services—not just four songs.
Try Faithlife Proclaim free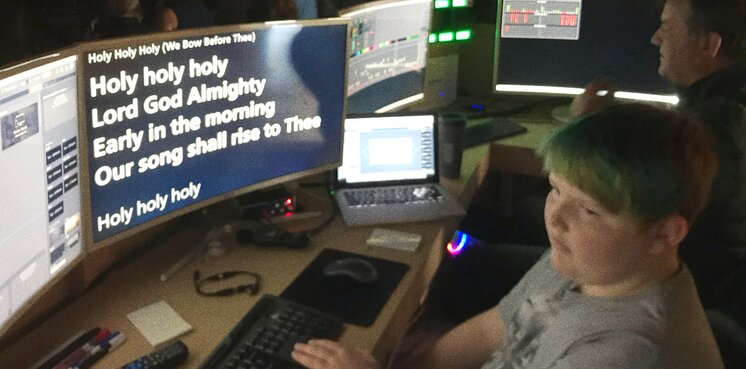 ---
Calvary Chapel's Ministry Today
Gavin, now 10, says Proclaim is "1,000 times easier" than what his church was using before.

Calvary Chapel now has a team of seven able to run presentations, and it takes an average of just three training sessions for volunteers to learn everything they need to know. (Three of those volunteers include Gavin's friends, ages 10–13.)

All five worship leaders can easily find Calvary Church's version of a song and add it to the presentation from anywhere. Ged was able to create a lighting setup in Proclaim that "just works"—automatically. And having a presentation for the entire service, not just songs, has paid off.

Gavin reports that since using Proclaim, he hasn't seen anyone dozing off in services.

But the added engagement doesn't stop with sermon slides. Ged also uses Proclaim to send links for further study to members at the end of the service. Because Proclaim works with the free Faithlife Study Bible app that many in his congregation have downloaded, Ged can provide a digital discipleship pathway with one tap.

Next, Ged and Gavin are excited to try lower thirds in Proclaim and start using it with all their church live streaming.

Ged is also planning to explore Logos because of its integration with Proclaim. He's looking at using Faithlife Equip for the same reason: they're currently using multiple different church softwares, and "It's a kind of administration nightmare to keep all those things going."
Try Faithlife Proclaim free
"It doesn't matter if you're 7 or 70, you can use this software."
---
— Ged West, pastor
Get Faithlife Proclaim the
Way That Works for You
Presentation Software

30 days free
Start free trial
Bundle and Save

Get Faithlife Proclaim and other essential tools you need to plan your service, manage your church, and disciple your people.
Learn more