Happy New Year to all. What is the purpose of this group? to let others know about interesting books? Related to stewardship of the physical body, I found:
https://vyrso.com/product/29343/first
Very inspiring book about a Christian man that won the title of "the fittest man on Earth" for several years. Crossfit tries to measure skill level in 10 different areas, and encourages to work to get each up to certain standards: Cardiovascular / respiratory endurance stamina strength flexibility / mobility power speed agility coordination balance accuracy Programming in this system tries to touch on all areas in a week. More attention should be given to weaknesses, to bring balance. No age restriction, as programming can be scaled in volume, intensity and frequency to match particular needs / conditions of individuals. Sample workout I have developed based on different input: Proper warm up and stretch. 5min rowing machine (can be done with tubing if no machine available) 5min at 4 incline in treadmill # 5.5 mph Then a circuit training: Kettlebell swings supine sandbag toss (a la xplosive benchpress) box jumps Barbell complex (dead lift, clean, and push press) 2m versa climb (can be substituted by step up with battle rope work) conditioning complex (burpee with 2 push ups, and then 4 jump rope double unders) v ups some pull ups and dips then finish with 5m elliptical 5m stationary (recumbent) bike 3 times a week, with 2 recovery days of 40min or more cardio done in 5 machines (e.g. versa climber, spinning, treadmill, rowing, elliptical) with little rest between change and to prevent overuse injury. So I hope this helps move from recreational reading to recreational stewardship of the physical body. Blessings.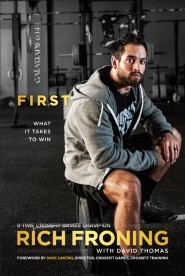 First
Physical Strength Can Only Take You So FarReigning CrossFit World Champion Rich Froning is "The Fittest Man on Earth." He's fast. He's strong. And he's incredibly disciplined. But it takes more than physical strength to compete and win at an elite level. It takes incredible mental and spiritual toughness as well. And it is the precise balance of all three that makes Rich Froning a champion.
vyrso.com