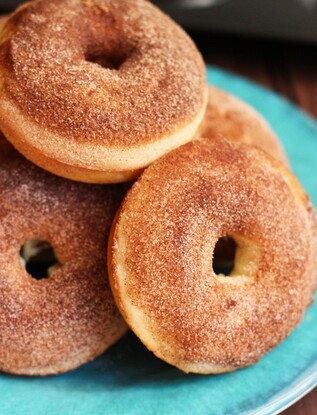 What Easter Means to Me: Homemade Cinnamon Donuts
Now, of course, Easter means more to me than "just" homemade cinnamon donuts; a LOT more, but for the sake of an attempted catchy blog title to bait you to read, please indulge me (forgive the appetite inducing pun).
My paternal grandmother (henceforth "Granny") was a wonderful country cook. She could take nothing and turn it into a delicious meal. One of the treats she would sometimes make were these homemade donuts that she would coat with cinnamon sugar. She fried them in a big ole iron skillet. She cut them into this shape – it was like two triangles back-to-back (I guess almost like a reverse "bow-tie" ◄►). For some reason, the memory of the shape stands out almost as much as the taste. They were delicious. I've had people send me recipes of how to make these, even offer to make them for me, but to be honest, I really don't want any other than my Granny's.
For several summers when I was teenager, I would spend a few weeks with my grandparents. They lived deep in the mountains of NC, a little town called, Robbinsville. It is almost at the very tip of western, NC (No, not Asheville or Boone ... further west and south, and a few decades behind the times).
When I was younger – pre-teen – we lived in Ohio – and I rarely got to see my grandparents. I didn't have much of a relationship with them. Phone calls were "long-distance" and cost by the minute, so I would say "hi" every now and then, but that was it.
But when we moved back to NC, (and they moved from VA back to Robbinsville), I got to see them a little more often; they would even come to Charlotte to see us. And, when I was old enough, I would spend the summer with them.
I loved going to my Granny and Papaw's. They owned the whole mountain! There were endless woods, a bear cave (or panther cave – I never had the guts to find out), a mountain stream … plenty of adventure for a young teen boy! I would go to "help" – mow their grass or do whatever, but Granny would not let me be out in the hot sun. She doted on me and spoiled me … and the homemade cinnamon donuts were just part of the treatment.
Sunday night suppers were very special. Churches were scarce in Robbinsville and for various reasons, we did not go to any of them. But for supper Sunday evening, Granny would make a "Sunday dinner," the biggest meal of the week. But before we ate, Papaw would read from his Bible, pray, and we would all have communion. It was a very special and solemn time. I really enjoyed and admired watching my otherwise quiet, private, mountain-stoic grandfather act like my preacher-dad.
But they were not always like that.
My Granny was born in 1913; Papaw in 1911. Both lived/grew up in that area of secluded NC mountains, but still, it was a different time. Although moonshining and drinking were part of the "charm" of Robbinsville, my Granny and Papaw did it to excess. They had quite the reputation … especially my Granny. She had a child out of wedlock before meeting my grandfather. Scandalous, to say the least. For these reasons – and some others – my Granny was not "welcomed" in any of those churches back then. (I'm sure things would have been different 40 years later … well, maybe not; Robbinsville remained pretty stagnate for decades.) In fact, it got so bad that my dad was ashamed of his own mother. (Yes, this is difficult for me to write. I feel like I am somewhat betraying my family by sharing these skeletons, but I want you to get a good picture of things.)
By the time I started spending summers with them, they had left behind most of their wanton ways. But the Sunday Night communion service? Well, here's how that got started … and why I am telling you about my Granny's delicious homemade donuts.
One day as I was getting off the bus from Jr. High (Middle School, they call it now), Granny and Papaw were getting into my dad's car in our driveway. They had driven the 4 ½ hours from Robbinsville for, what seemed to me, a surprise visit. Dad called out to me that they were headed to the church; he was going to baptize them. I wish I had thought to go with them, but I didn't. I was thirteen or fourteen at the time, and they were "in motion" anyway. It just didn't dawn on me. Or maybe it was God's Providence that I didn't go so this story would play out. I have heard my dad tell it many times; perhaps if I had been there, Granny would not have said what she did.
They got to the church (I think dad knew ahead of time and had the baptistry water heated) and changed into robes. They stood in the water and my dad said what I had heard him say so many times … he talked about how sins are washed away at baptism (Acts 22:16). As he was preparing to baptize my Granny(1), she stopped him and asked, "Gary, will ALL my sins be washed away?" My dad knew what she meant … he knew she was thinking back to her previous days of living however she wanted. He choked back the tears and said, "Yes, mamma, ALL your sins …" and he baptized her.
47 Therefore I tell you, her sins, which are many, are forgiven ..." Luke 7:47a (ESV)
My Granny died a few years later, 1982. She suffered a long battle with emphysema and some other health complications; the result of years of smoking and her lifestyle. But after that day, after she was born again, she was a new person. She was a forgiven person. She was a child of the King and an heiress to His promise. And I know, because of Easter – or better stated, because Jesus Christ died and rose again, defeating sin and death and hell itself – I KNOW I will see her again one day. She placed her hope and faith in the One – the ONLY ONE – who can make and keep that promise.
And so, I've placed my order: At the marriage feast of the Lamb (Revelation 19:9), I have requested my Granny's homemade cinnamon donuts. (2)
1 Now I would remind you, brothers, of the gospel I preached to you, which you received, in which you stand, 2 and by which you are being saved, if you hold fast to the word I preached to you—unless you believed in vain. 3 For I delivered to you as of first importance what I also received: that Christ died for our sins in accordance with the Scriptures, 4 that he was buried, that he was raised on the third day in accordance with the Scriptures,
[..]
20 But in fact Christ has been raised from the dead, the firstfruits of those who have fallen asleep. 21 For as by a man came death, by a man has come also the resurrection of the dead. 22 For as in Adam all die, so also in Christ shall all be made alive. (1 Corinthians 15:1-4, 20–22, esv)
My Granny will be "made alive." I will be "made alive." All who have placed their faith and trust in Jesus will be "made alive." And I would love for to you sample some of my Granny's homemade cinnamon donuts when that day comes!
___________________________________________________________________
(1) The change was just as profound in my Papaw, but this story is about my Granny so, although he is included in everyway, his story is not the focus.
(2) Please don't get derailed if you have a "theological disagreement" about me making requests for Heaven. I don't know if God is going to grant any of my requests for the next life - I've made several; I do know Heaven is going to be beyond amazing and I will love it with or without Granny's homemade cinnamon donuts. But on this side of Heaven, not knowing what will be "allowed" as far as that goes, I am asking – and have asked on many occasions – to once again be treated to those wonderful puffs of fried dough … AND, with that new body I'm gonna get, I won't have to worry at all about any negative health consequences.
Thank you so much for sharing Scott.. heartbreaking but powerful story about your precious grandmother and your father..and Christ's Forgiveness and Grace and how He truly restores. I so related to your father and what he went through. God is working in my life around the crippling shame that I have carried surrounding the behaviors of a severely mentally ill family member. This family member was truly a Christian, who had enormous and excruciating struggles. I deeply loved and cared about this person, but I struggled greatly around the illness and the repercussions of the behaviors. Still breaks my heart. I do know God is healing and helping me to work through this, and to grow in His Mercy, Grace Forgiveness and Truth. Family member deceased now. Thank you for sharing Luke 7:47, so needed to read that scripture and remember.. Thank you