Raffaele Paglialunga writes: "I don't know what is happening where everyone else is at but from what I have been reading from all sorts of Christian authors, from all different walks of life, I am noticing a growing shift in the Gospel presentation. I love learning by means of reading, as well as listening to different views, especially Christian conferences (T4G, G3, GospelColtion, ShepCon, etc). With that said, I am deeply broken in spirit by what I am seeing take place in the Christian world. I have often wondered where all this new nonsense came from and now I believe I know. This craziness of the Social Gospel comes from the Communist handbook and is eagerly promoted by American Christians who claim to be doing the Lord's work with an unfortunate clouded view of the Gospel itself. What is real troublesome is many very well known and deeply educated men whom I consider brethren are involved in this effort to Christianize the Social Gospel movement. Besides the Social Gospel movement there are many who also are pushing to get revival started in America (as the Third Great Awakening) and yet if we only read the Word of God, we'll discover that first, revivals are for Saints but more importantly, it isn't likely to happen because the world (people) are moving away from having anything to do with God. The World is blind to the Light of this world. It is the reason why the Gospel message must be proclaimed in full with nothing left out. Even when preachers proclaim to their flock the message weekly, they do so with the intent of rebuking, reproving, and edifying. Unless an unbeliever hears the message preached, unless they are pricked in their heart, unless God gives them a heart of stone to receive, they will NEVER believe. People are evil, corrupt, and look for more ways to be evil and do evil. Even the very words of Christ are, "the way is straight and narrow, FEW find it..." The way to hell is of course opposite "wide, and broad MANY enter through its gate". It's about time we stop fooling around with nonsense and get back to Preaching the Word of the Living God. Time is short and tomorrow we are not guaranteed." Denise suggested: "Well, at least I was intro'd to a historical movement (Logos resource, almost):
https://www.christianitytoday.com/history/people/activists/walter-rauschenbusch.html
And Logos even has his collection too.
https://www.logos.com/product/28531/the-walter-rauschenbusch-collection
My guess, the OP may have had something else in mind, but interesting author." James McAdams and Lew Worthington found Raffaele's comments painful and unpleasant. Discuss amongst yourselves...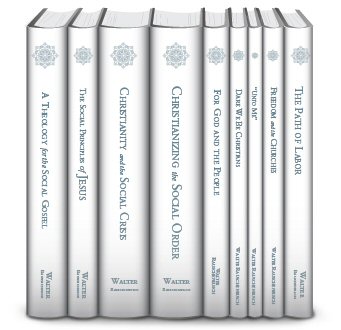 The Walter Rauschenbusch Collection (9 vols.)
Walter Rauschenbusch was an influential figure in the Social Gospel movement, arguing that the chief aim of the church should be to transform society. This collection includes his most important works, Christianity and the Social Crisis, Christianizing the Social Order, and A Theology for the Social Gospel, in which Rauschenbusch critiques current social conditions, sets out the church's role, and gives a theological foundation for the Social Gospel.
www.logos.com
Can someone cite an argument that someone with influence in the church has put forward where they've discussed actions that they think we should take but that you think would be harmful? I think it would help to discuss something "real"

SineNomine, Thanks for pointing that out. I did a ctrl+f to see if I missed but somehow I must have missed it even after that!

James McAdams, I like that idea. I find that when it gets down to disagreement it's better to discuss particulars and specifics rather than the sort theory-building that is common on this issue. That theory-building or narrative construction happens on both the social justice side and the anti-SJ side.