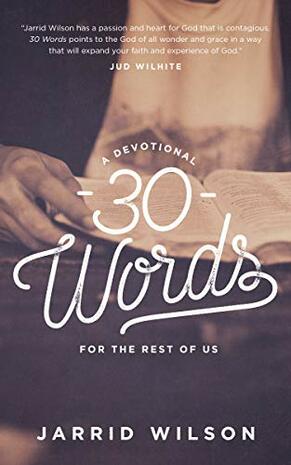 30 Words Daily Devotion
WORD 12 - FREEDOM
"It is a fact that the Lord Jesus has already died for you. It is also a fact that you have already died with the Lord Jesus.… If you do not believe in your death with Christ … you will not be able to receive the effectiveness of death with Him—freedom from sin."
—Watchman Nee

All of humankind is possessed with a tormenting disease called "sin." On a daily basis we indulge in certain behaviors that will ultimately be our own demise (e.g., drugs, sex, alcohol, pornography, swearing, pride, lust, or selfishness). As Isaiah 64:6 declares, "We are all infected and impure with sin. When we display our righteous deeds, they are nothing but filthy rags. Like autumn leaves, we wither and fall, and our sins sweep us away like the wind."

It is within our human nature to live and work for ourselves. But within the confines of Scripture, we can find the guiding power to relinquish ourselves of these burdening attributes and find freedom from the bondage of our sinful nature. Take 1 John 1:7–9 for example:

But if we are living in the light, as God is in the light, then we have fellowship with each other, and the blood of Jesus, his Son, cleanses us from all sin. If we claim we have no sin, we are only fooling ourselves and not living in the truth. But if we confess our sins to him, he is faithful and just to forgive us our sins and to cleanse us from all wickedness.

The more focused we are on the world, the less likely we are to do things that are holy. But the more focused we are on the cross, the less likely we are to do things that are sinful. Hebrews 12:2 offers us one more point of guidance: "We do this by keeping our eyes on Jesus, the champion who initiates and perfects our faith. Because of the joy awaiting him, he endured the cross, disregarding its shame. Now he is seated in the place of honor beside God's throne."

A lot of non-Christians think that following Jesus is the exact opposite of freedom. They see Christianity as a list of things you can't do. Worse, many have encountered legalistic Christians who judge those who don't abide by a moral code that the Christians can't even uphold themselves. Legalism, condemnation, hypocrisy … what a mess!

Real Christianity shouldn't be like that. As we grow closer to Jesus, our desires change. Selfishness, for example, is no longer just a thing you shouldn't do; it's a behavior you don't have any desire to be associated with because you've seen through Christ how much better a selfless life can be. That's freedom: a transformation of desires. As you grow in your relationship with Jesus, you find that sinful desires have less of a pull on you, and your relationship with Jesus increases in power and meaning.

VERSE OF THE DAY
"But thank God! He gives us victory over sin and death through our Lord Jesus Christ" (1 Corinthians 15:57).

CHALLENGE
Write down three sins you're currently struggling with, and be honest about them with someone close to you. With that person, find time to pray for freedom from your current sins, and come to God with true, heartfelt surrender.

DISCUSS
What does "freedom in Christ" mean to you?
In what ways has Jesus shown you freedom in your life?
Discuss habits or sins from which you currently need freedom.

 Wilson, J. (2016). 30 words: a devotional for the rest of us. (2nd Edition, Ed.) (pp. 68–71). Bellingham, WA: Kirkdale Press.