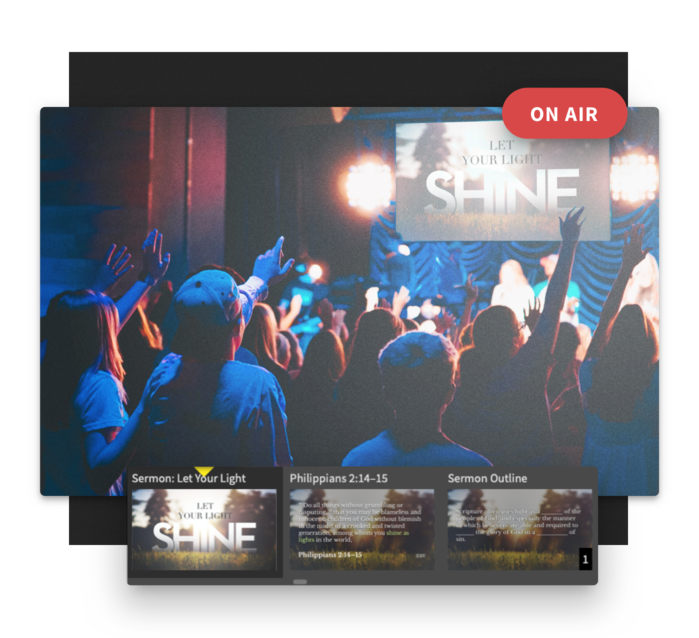 Intuitive and Simple Interface
Navigate through the app quickly and easily with no confusing buttons and an easy-to-understand interface.
Go On Air
Instantly present your slides by going "On Air" with a click.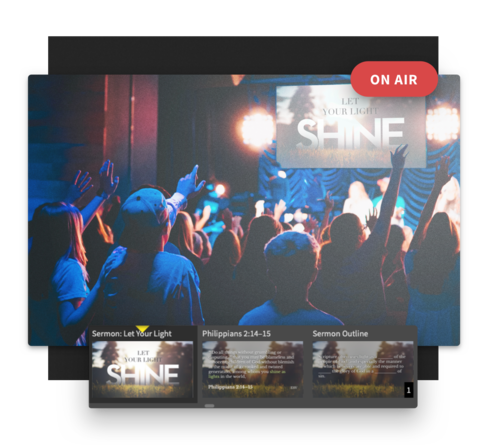 Order of Service
Lay out each part of your service—from opening prayer to closing benediction—and automate when to start presenting.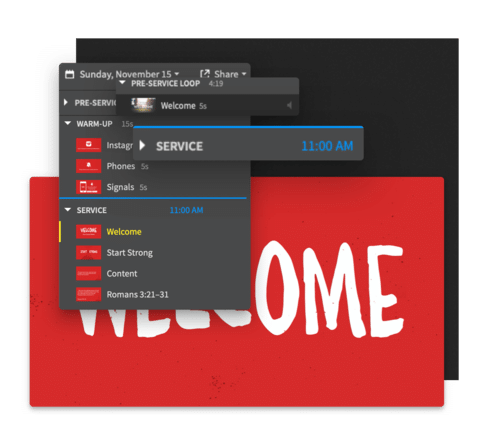 Quick Screens
Need to add something last minute? Create a quick screen to display something while you're On Air, even though you didn't add it to your presentation ahead of time.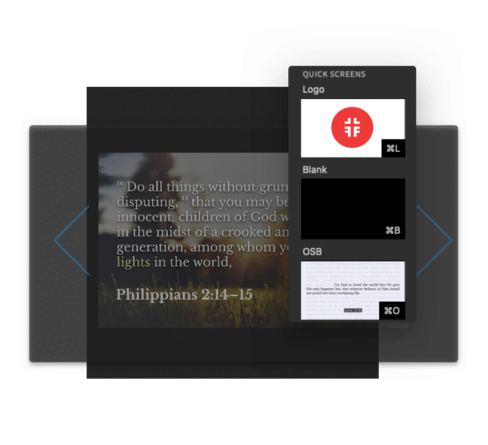 Bible reference
Display Bible passages on the fly while On Air. Select your translation from more than 20 different Bibles.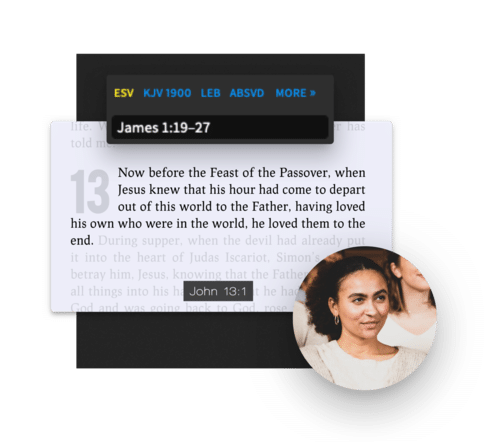 Adjustable control view
Pick the layout that works for you. Choose from full view or grid view—and even switch while you're On Air.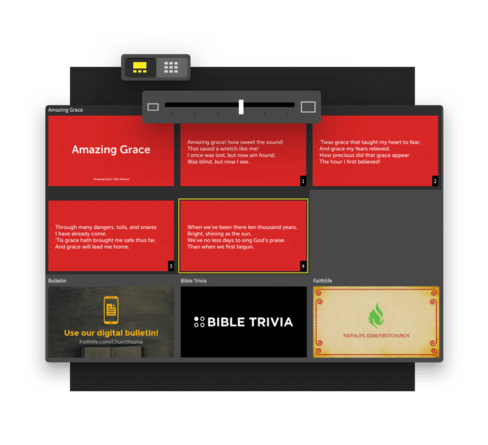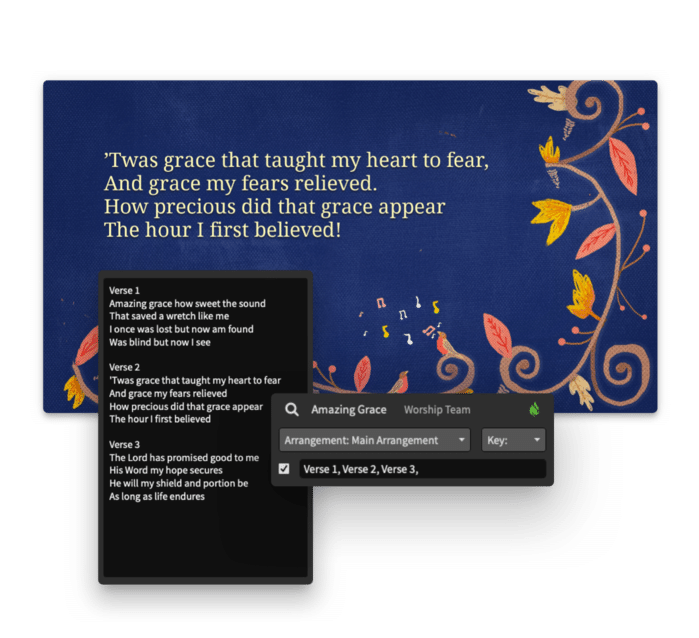 Pre-Built Service Items
Choose from various preformatted slide types, so all you need to do is fill in the blank with your information.
Learn more about service items.
Song items
Auto-populate lyrics via the Faithlife Hymnbase or your SongSelect by CCLI account, or add your lyrics directly through Proclaim.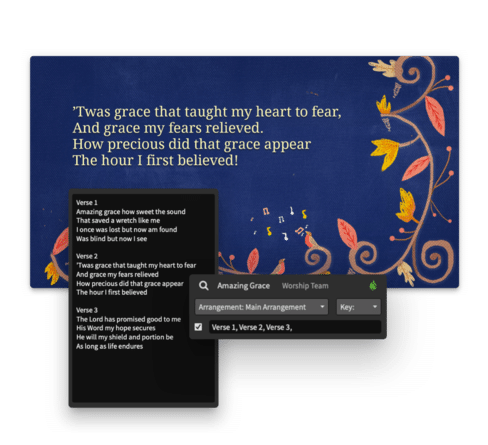 Bible passage
Enter your reference, choose your preferred Bible, and Proclaim automatically enters the text and formats each slide.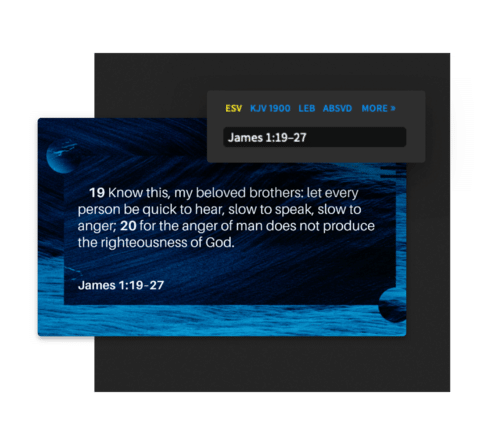 Content items
Add premade media, from sermon titles to social media and welcome slides.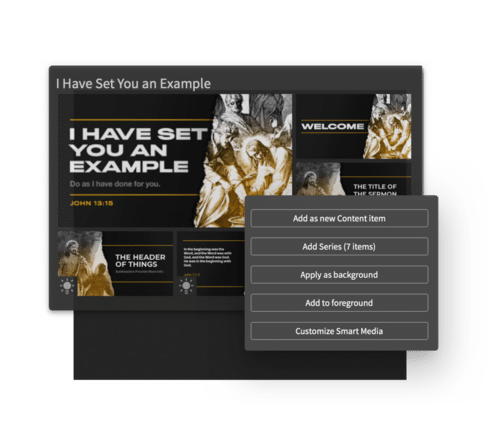 Announcements
Enter the information, find a theme you like, and Proclaim formats the slide.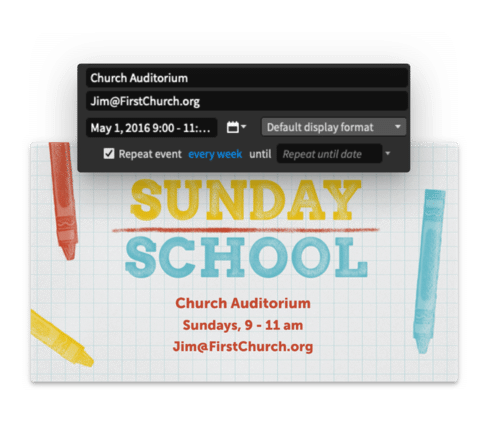 Import calendar events
Automatically import events from your Faithlife calendar to create announcement slides.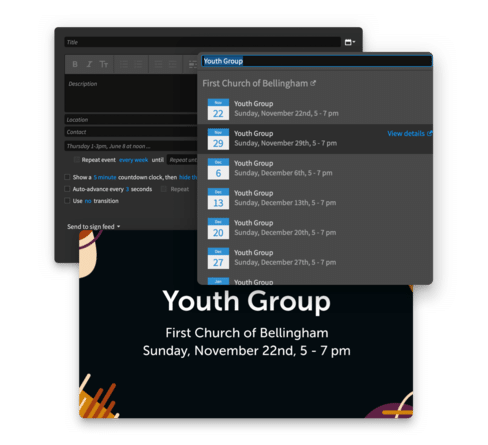 Sermon Recording
Record, edit, and publish without ever leaving Proclaim or needing other equipment.
Learn more about sermon recording.
Recording cues
Add cues to record any section of your service automatically.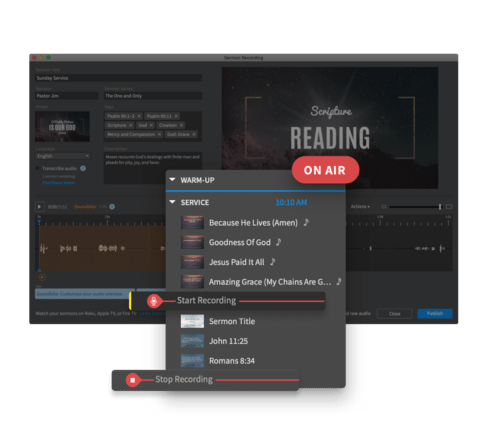 Add markers
If you hear something live you'll want to remember later, press the "m" key to drop a marker in your recording.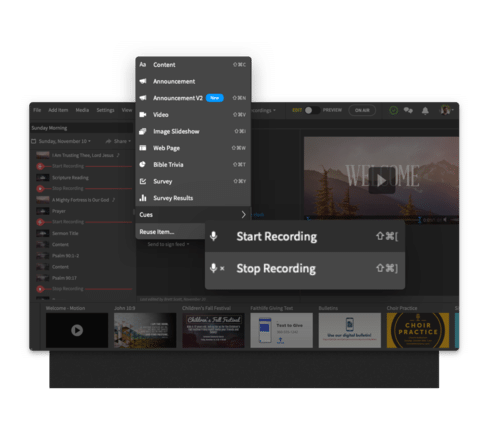 Edit recording
When you go "Off Air," Proclaim will stop the recording and open a sermon recording window. You can choose to edit the audio right away or save it for later.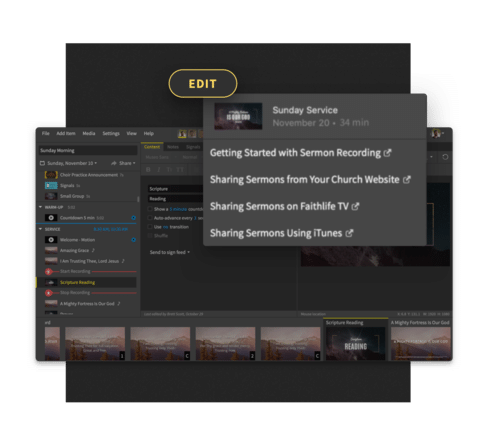 Sermon transcription
Automatically transcribe your sermon, enable closed captioned playback, and even get an analysis of your sermon's tone for about $1/sermon.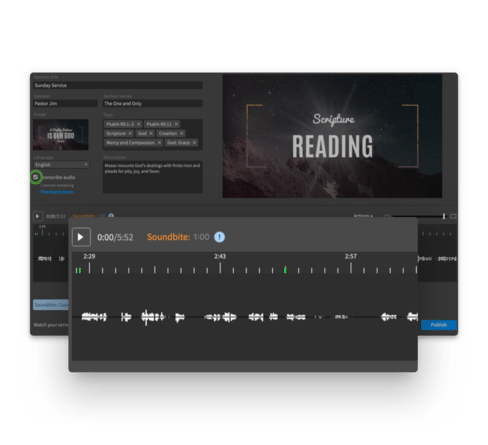 Publish
Fill in details about the sermon, upload an image, and hit publish. It automatically posts to your church group, website, and anywhere else your church is online.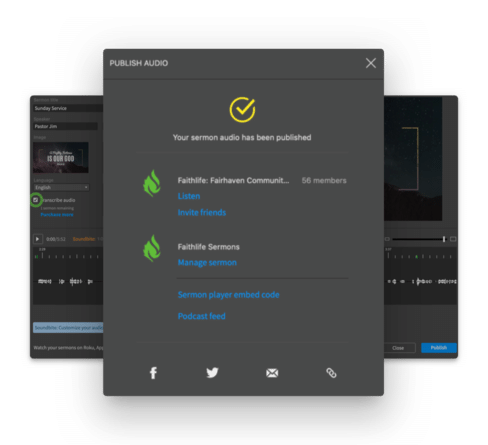 Faithlife Proclaim
See Faithlife Proclaim
in Action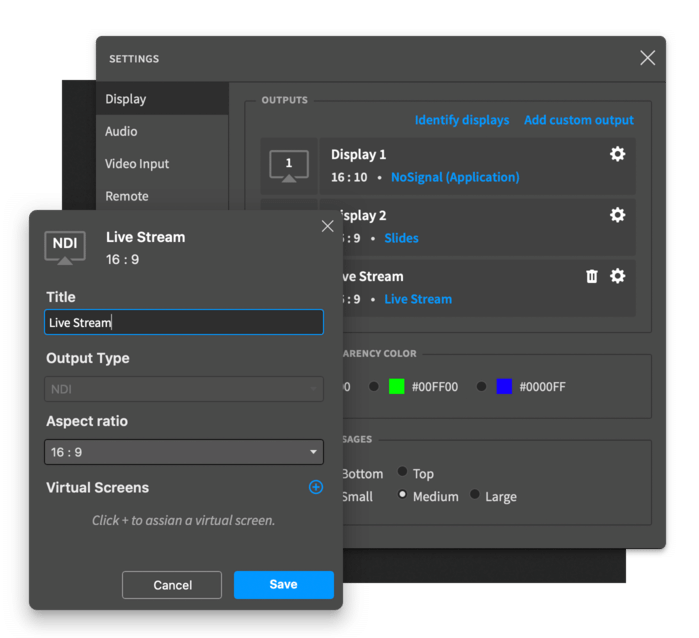 Live Streaming
Run in-person and online services with ease.
Learn more about live stream cues.
NDI Support
Proclaim supports NDI out to easily send a video source to your encoder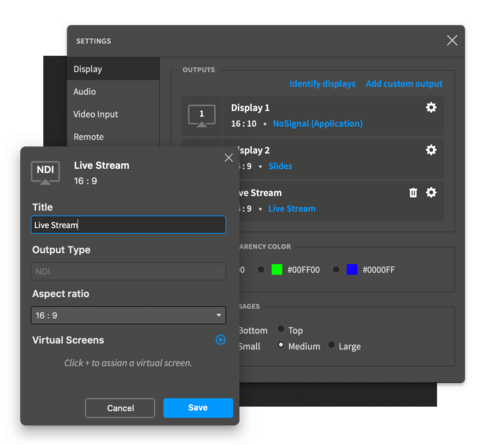 Overlays
Show the same overlays in service and in your live stream.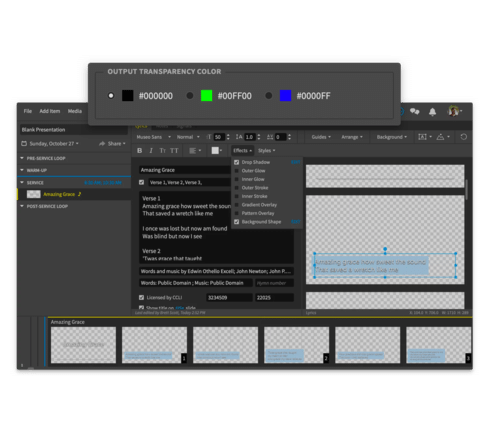 Alternate content virtual screens
Show slide content in different ways on various outputs.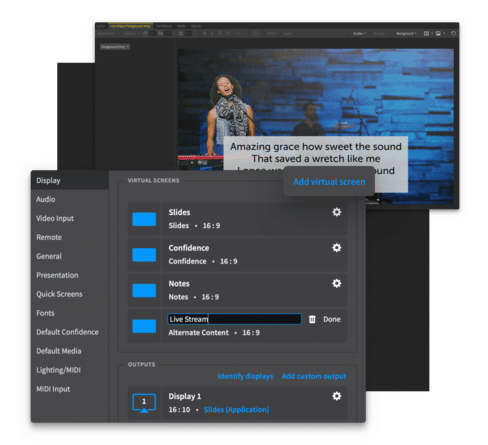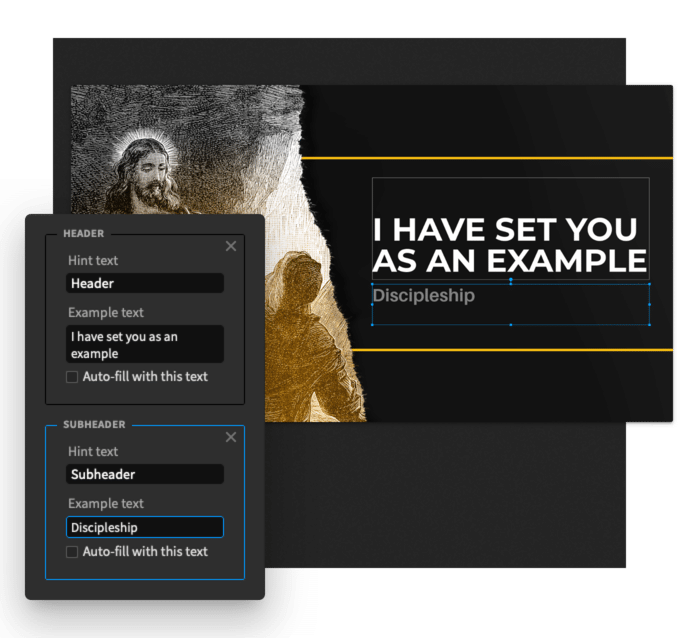 Church Media
Customize, store, and create beautiful graphics and slides.
Smart Media
Simply type in the field, and the software will do all the designing and formatting for you.
Media browser
Access and organize your media files within the app quickly and conveniently.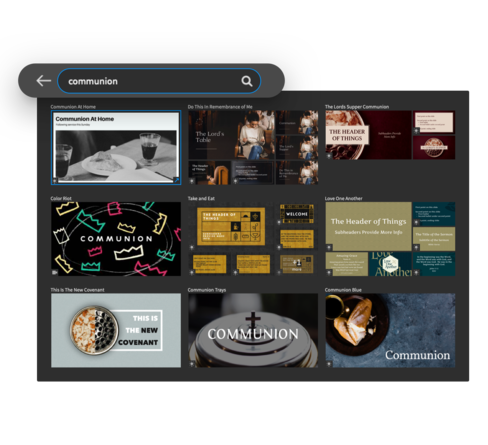 Professionally designed media
Proclaim comes preloaded with thousands of designs. You can choose to add on our Pro Media or Partner Media plans for even more options.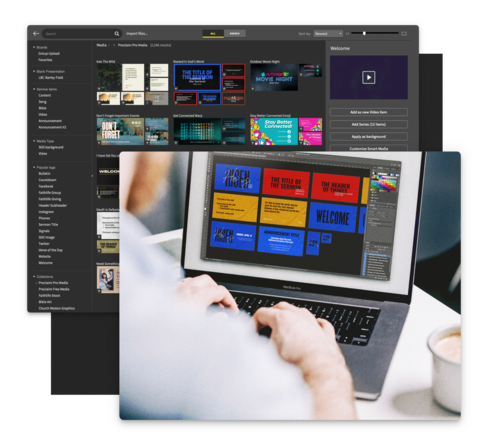 Media editor
Customize any media using Proclaim's in-app editor. Use custom fonts, shapes, box fills, and more.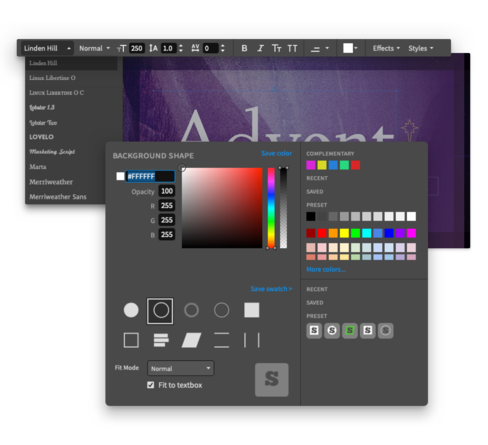 Smart Media templates
Have a specific style in mind? Create your own templates for song items, Bible slides and more.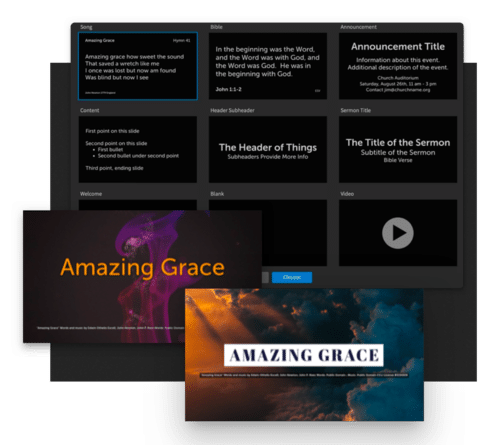 Community media
Use Smart Media templates from the Proclaim community and share your own.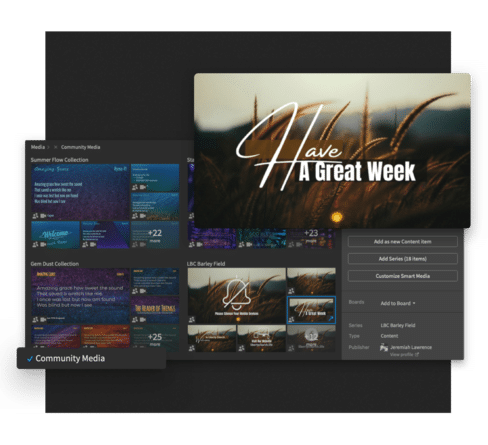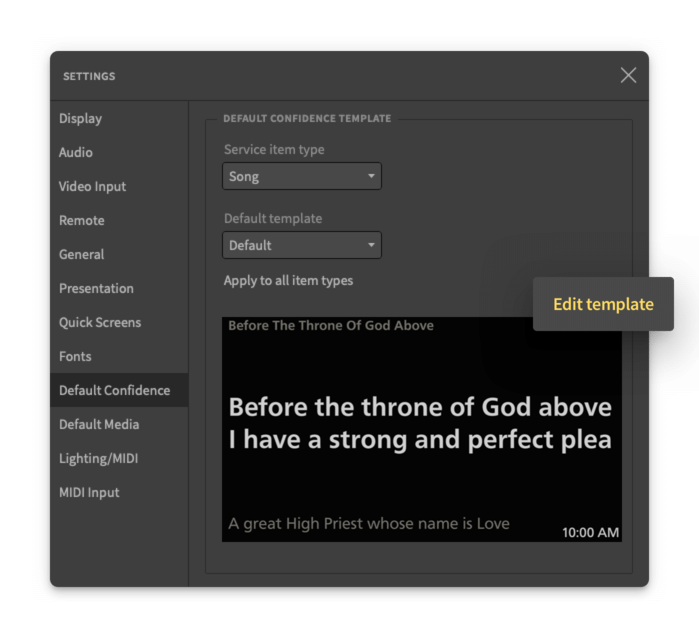 Confidence Monitor
Display lyrics, notes, chords, and more on a custom monitor for each person on stage.
Learn more about the confidence monitor.
Templates
Choose from our premade templates or create your own to show the snippets that help your pastor and musicians most.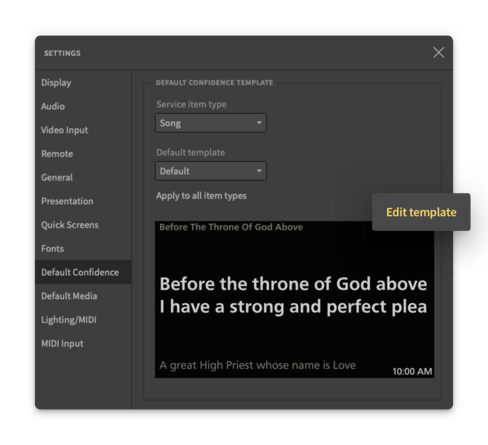 Display chord charts
Add chords in line with your lyrics to show them on the confidence monitor for your musicians.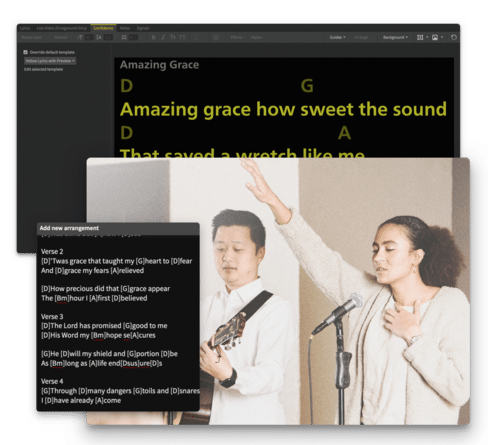 Stage messages
Communicate important info on the fly with private stage directions or messages.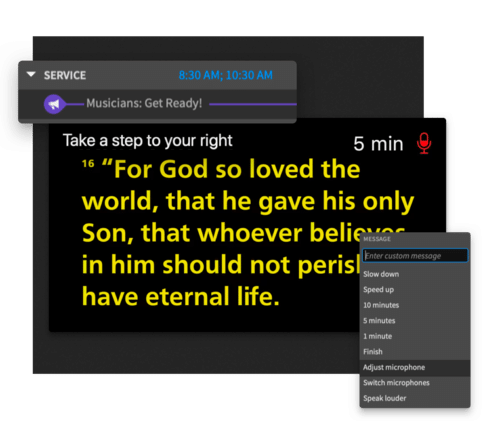 Timers
Display a count-up timer to show a speaker how long they've been speaking or a countdown from a predetermined time limit.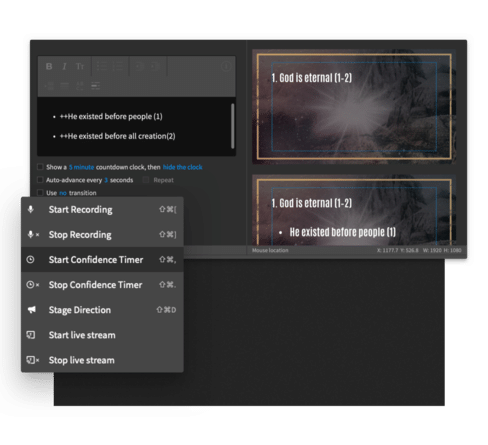 Third-Party Integrations

Import your song list from Planning Center Online into Proclaim. You can even choose to prefer lyrics from PCO or Proclaim in case you've made a template.

Make a one-time connection with your SongSelect by CCLI license to access hundreds of song lyrics and have song slides in seconds. We even track your usage to make reporting easy.

We partner with some of the most popular church media creators to bring you cutting-edge designs, right in Proclaim.

Import your service plans to Proclaim with a click.

Proclaim will recognize any song mapping you've set and build your slides accordingly.

Import any of your media creations from LiveSwap directly into Proclaim.

Import a presentation from PowerPoint.

Import a presentation from Keynote (Mac only).
---
Discover Why over 4 Million People, Churches, and Ministries Trust Faithlife
Allowing multiple people to access the program, and to do so at home or office, is a great feature that gives us tremendous flexibility and productivity.
Proclaim not only added "life" to our praise and worship, but it has been an amazing visual aid during our entire service. I would recommend Proclaim to any ministry!
Proclaim is genuinely intuitive and simple to use. . . (It) just uses plain English to describe what you're doing, in a drop-down list. Can't get simpler than that.
Enjoy Frequent Updates and Convenient New Features
When you subscribe, you'll get all of the latest features as soon as they're released. Check out some of our most recent updates.
Join for news and updates from Proclaim.