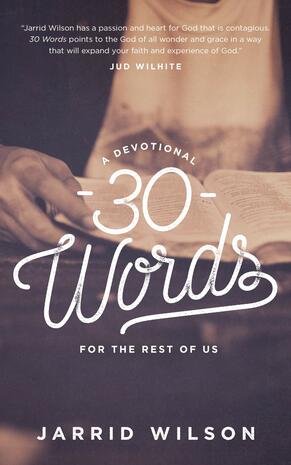 30 Words Daily Devotion
WORD 15 - DISCIPLE
"Discipleship is a decision to live by what is true about God, not by what I feel about Him or myself or others." —Eugene Peterson
To be honest, it took me about two years into my faith journey to truly understand what it means to be a disciple of Jesus Christ. In my defense, my confusion was aided by horrible examples of people calling themselves disciples of Jesus.
I soon realized that a disciple is a follower and learner of Christ, and that my mission as a disciple was to share the truth of Jesus and restore hope into a broken world. My calling as a disciple wasn't something I grew up thirsting for. I like to say it chose me. Regardless of the initiation, those who call themselves followers of Christ have now enrolled themselves into a life of full-time discipleship. Not only are you a follower of Christ, but you are called to be a living example, a leader, and to build up other disciples around you.
Many of you might be thinking, "I'm not qualified for that." Remember this: God isn't looking to call the qualified; instead, he qualifies the called. Every step you walk as a disciple is a step in which you gain divine wisdom and guidance. And every day you walk alongside the glorious presence of Jesus is another day you will grow as his disciple.
Not a public speaker? Not a "people person"? Not feeling well-connected, confident enough, smart enough, attractive enough, experienced enough? Doesn't matter. None of those things matters when it comes to being a disciple.
After all, God chose Jonah to go tell others about him and do you know what Jonah's response was? He ran away. He tried to hide. Jonah wasn't exactly an inspirational, charismatic leader. But after a terrifying storm and some time spent inside the belly of a fish, Jonah got all the equipping he needed to be a strong, impactful disciple. This man who thought he could hide from God became a bearer of good news!
We have this idea that before entering into duty as a disciple, we need to be washed clean. But the reality is, we cannot prepare for what God will do in our lives because we are only as capable as God makes us. We must step up to the front of the battlefield ready to learn, seek, and ask. And although we may find failure amid our journey, in the eyes of God, failure is a lesson learned
A disciple of Jesus is one who is willing to risk everything for the sake of sharing the hope of a man who can bring life to anything and anyone.
VERSE OF THE DAY
"Therefore, go and make disciples of all nations, baptizing them in the name of the Father and the Son and the Holy Spirit" (Matthew 28:19).
CHALLENGE
Make today your day to stand tall as a disciple of Jesus Christ. Seek his wisdom, guidance, and daily transformation. Find someone that you are able to pour into, help hold accountable, and walk through the journey of faith with.
DISCUSS
What does it mean to be a disciple of Christ?
To what length would you go to share the gospel of Jesus?
Who in Scripture risked their lives for the sake of Jesus? Discuss these examples.