ONLINE GIVING FOR CHURCHES
A definitive guide
---
---
Online Giving: The Best Way to Level Up Church Giving
It's no secret to anyone that church giving is in decline. All the metrics show it. The typical US Protestant who attends church donates about $17 a week. On average, Christians give 2.5% of their income compared to 3.3% during the Great Depression, and only 5% of Christians tithe.

All of those numbers were calculated before the global COVID-19 pandemic shuttered church buildings worldwide. About two-thirds of churches reported a drop in giving during that period.

It's not just Christians; Americans, in general, give less than they did just a decade ago. In fact, charitable giving grew from 2000–2008 and was hit hard by the great recession but has never fully rebounded.

But look a little closer at the numbers, and you'll see the real problem. It's not that people are less generous today. It's that fewer people are generous. The Giving USA Foundation notes that a smaller percentage of people are giving to charitable causes than in decades past. While the average giver today donates more than he or she did in 2002, fewer people are giving overall.

What does that mean for churches? A few things. But one thing is for certain: giving must be easy if you want to see more people giving consistently.

That's where online giving comes in. The digital revolution of the past 20 years—and the mobile revolution of the last 10—transformed the expectations of the people in your church. In fact, online giving is growing much faster than overall giving.

The solution for the church giving crisis isn't just more effective teaching on the tithe or generosity in general. And it isn't just more transparency about where the money is going. While both of these things are certainly important, there's one more very simple but occasionally overlooked element at play here: finding a giving mode that meets (or beats) the expectations of the people sitting in your pews (or on your live stream). Online giving does that.

Let's look further into the following topics:
Feel free to jump around to the sections that interest you most, or read the page straight through from the top.
---
Common Terms to Know about Online Giving for Churches

Tithe
What does "tithe" mean?
Deriving from an Old English word meaning "a tenth," the concept of tithing came to Christianity through the Old Testament law. In the Pentateuch, God told the people of Israel to give back to him the "firstfruits," or the first 10% of the produce from the land he gave them (Lev 23:10).
Many Christian traditions teach the tithe as an obligation for Jesus-followers today. For these traditions, church members are encouraged to give 10% of their income to their local church. Some issues related to how to tithe when in debt and how to calculate tithe (whether on the gross or the net of a person's income) remain a matter of debate in many Christian circles.

Fintech
What is fintech?
This is the broad category of technology companies that involve finance (in which online giving for churches fits). Overall, the industry has grown immensely in recent years. In 2018, the global fintech market was worth $127.66 billion and was expected to grow by 25% a year through 2022.

PCI SSC
What does PCI compliance mean?
The Payment Card Industry Security Standards Council (or PCI SSC) aims to enhance payment account data security globally. They have done this by developing data standards, also known as PCI DSS, to drive education and awareness. PCI DSS is a set of data security standards that fintech solutions must adhere to regarding the safety of the transactions they facilitate. These standards help ensure that companies process and manage credit card information safely. All service providers and merchants are required to adhere to these data standards.
Recurring Giving
What is recurring giving?
This online giving feature allows givers to schedule donations of a specific amount on a regular rotation (such as weekly or monthly). The feature makes it easier for people to tithe online so they don't need to remember to do it manually.
As an added perk, recurring giving provides churches with more consistent income and better insight on where to set their budget.
Most churches that see a lot of people using recurring giving find that their giving grows because donors don't forget intended gifts when they're out of town, sick, or otherwise can't come to church.

Text to Give
How does text to give work?
This online giving feature lets givers send a text message to a specific number with the amount of money they'd like to give and the fund it should go toward all in a matter of seconds.
The first time a person uses Text to Give on Faithlife Giving, they'll receive a returned text with a link to set up their payment info via mobile giving. But once it's set up, a simple text message is all it takes to make a donation. There's no need to download the church's mobile app or log in from your desktop. But once the gift is in, you can send a follow-up email to say thanks and invite the giver to get connected with your church.

Remember this—you can't serve God and money, but you can serve God with money.
—Selwyn Hughes
---
Benefits of Online Giving for Churches
---
1. People can give wherever they are and whenever they feel led.

For the vast 2,000-year history of the Christian church, the hub of church activity has been the church building. If, as a church leader, you wanted to minister to people, you generally had to get them inside the four walls of your church. Even the act of giving required people to be in a building (or buy a stamp—but that's another story). But with the invention of the internet, smartphones, and tablets, that's no longer true.

With online giving, your congregation can give wherever they are—whether in a pew at church or at a child's soccer game. With many churchgoers attending less frequently than in the past, giving can continue regardless of whether people are attending in-person services.

Online giving also allows your attendees to give whenever God prompts them to give. Generosity shouldn't be limited to a couple hours a week. With online giving, people can give at any time of day and any day of the week.

---

2. People don't need cash on hand.

Your church members don't carry nearly as much cash as they did years ago. During an average week, only 3 in 10 adults made ZERO purchases using cash. Those who do carry cash have it in their wallets less than half the time. More than three-quarters of respondents to one 2019 poll say they typically carry less than $50 at a time.

Odds are good that your church members don't carry cash, either. A handful of attendees might bring a checkbook. Some of your longtime givers may bring cash especially to put in the offering.

But if you're in a giving rut or want to grow your giving, you'll need to allow people to make gifts in the same way they make purchases or payments—from their mobile devices or personal computers.

Much of this is a generational challenge. As digital natives, millennials and Gen Z Christians (all those born after 1980) grew up in an era where cash was an afterthought.

Unless churches learn to make it easier for young Christians to give online, they risk missing an entire generation of givers.

---

3. You will grow generosity.

When you make church giving easier, people give more. Churches that allow parishioners to give online increase donations by an average of 32%.

Online giving isn't about being relevant or cool. It's about making giving easier so more people can contribute in the way that works for them.

Your giving shortfalls aren't a foregone conclusion. Online giving will get more people involved in giving—particularly younger givers who might not already be tithing regularly.

But it's not just younger givers—older people (who have long provided the backbone of church giving) are increasingly online. One Pew Research Center report says the fastest-growing age group of Facebook users are 65+. More than half of nonprofit donors who participate in online giving are over the age of 55.

---

4. It smooths giving slumps.

It's common for church giving patterns to ebb and flow throughout the year. Most people involved in church ministry have encountered the summer slump, where church participation of all kinds drops over the summer—but particularly giving.

Because online giving makes it easier for donors to plan their giving, it helps level out the lean months. If a church's giving is reliant on cash and checks, its income takes a dip because people take vacations or plan fun weekend activities. But with online giving, your church community can set up recurring giving, so they never forget a donation. Or they can give from the beach or their mountain lodge—anywhere they can find a cell phone signal.

---

5. It can disaster-proof a church.

Churches saw firsthand in 2020 how quickly natural disasters can impact church giving. Some suggest that 1 in 5 churches may close in the aftermath of their buildings shuttering during the COVID-19 pandemic. Part of the reason for those fears comes from a drop in church giving.

However, many church leaders believe that 2020 could mark a transformative period in church giving. According to a summer 2020 survey of the Evangelical Council for Financial Accountability (EFCA), 64% of churches saw an increase in online giving from January to April 2020.

'We didn't anticipate a time where in our country nearly every church's doors are closed. That was unthinkable. It's like there's an ark being built, and we didn't know it would rain' Bobby Gruenewald at Life.Church told Christianity Today, describing how online giving helped churches through the COVID-19 pandemic. —Bobby Gruenewald at Life Church

---

6. You get new opportunities for pastoral care and discipleship.

Picture this: when you're processing your weekly offering, you find a large check from an unfamiliar name. You don't know anything about them, and short of googling them or sending some old-fashioned snail mail, it's difficult to find out who they are and connect them to discipleship opportunities at your church.

But when you use online giving, you can easily follow up with new givers, thank your faithful givers, and find out who stops giving.

While giving can be an incredibly personal and spiritual matter, having this kind of data on your givers can open up ministry opportunities for your church. People often stop giving because of a major life situation (loss of job, illness, etc.). When you get a good look at the people who have stopped giving, you can reach out to them with meaningful ministry.

---

7. You save administrative time.

Once your church's online giving is set up (takes only a few minutes with Faithlife Giving), you don't need to do anything else to process gifts made online. That means no manually inputting every donation, no bank runs, and no reconciliations to find why the bank statement doesn't match your stack of checks. (Now, if your church currently accepts physical gifts, you should keep doing it. But don't be surprised if your weekly offering goes down and your online giving goes way up.)

One of the biggest differentiators between excellent and average online giving solutions is that better solutions save your team more time.
Discover how online giving for churches can help you disciple new givers.
Get started
Faithlife Giving is available in the United States only.
---
5 Common Myths about Online Giving
A few misconceptions exist about online giving—here are five to consider.
Myth #1: Online giving is less worshipful.
The argument seems straightforward. Because online giving often happens outside the gathered worship service, it's more likely to be seen as just another financial transaction by givers. Both the biblical witness and the experience of Church history consistently puts the act of giving as a part of worship.

But the Bible never prescribes a specific place or mode of church giving. Neither the Israelites of the Old Testament or the growing churches of the New Testament dropped money in an offering plate. In fact, "passing the plate" is a relatively new development in global Christianity.

Encouraging giving outside of a church worship service reminds everyone that all of life is worship, not just the songs or the service (see Rom 12:1).

Also, churches that want to include online giving within the worship service have plenty of options. Our favorite: reminding people that they can pull out their phones to give during the offering time. Churches can also include the link to give (or even the text-to-give number) on pre-service slides, briefly explain on printed bulletins, and post online giving instructions near the offering box.
Myth #2: Online giving isn't secure.
Though digital financial transactions have been common for more than two decades now, a small segment of givers still questions whether their gifts are secure. Churches that understand their God-given role as stewards of what's given to them want their congregation to trust them with those gifts.

Online giving is actually more secure than check and cash gifts. When people online, they get to see when their donation is processed and deposited into the church's account. Online giving touches far fewer human hands and is subject to much less human error than dropping cash and checks into an offering plate.

Also, online giving with PCI-compliant solutions leans on world-class security to move money from givers to churches. You simply can't get that kind of confidence when your church is passing cash and checks from an offering plate to volunteers to staff to the bank.
Myth #3: Online giving costs too much.
Many churches struggle with the ethics of handing over part of their online giving to pay for the service. Certainly, churches have a responsibility to steward the resources people give effectively. You'll have various choices when it comes to online giving solutions, and you can choose the one that gives you a good return on your investment.

After all, online giving is an investment. Your support of online giving pays for your provider's ability to develop a high-quality platform. You're investing in the security and ease-of-use of your giving experience. You're also saving your staff time (and money) in the process.

Some giving solutions (including Faithlife Giving's platform) allow your donors to pick up the processing fees associated with their gifts (called donor-covered fees). Many will choose to do so as an additional way to support your ministry.

Finally, since online giving often inspires people to begin giving (or give more frequently), the increase in giving often covers the transaction fees you incur.
Myth #4: Only tech-savvy people will give online.
This may have been true 20 years ago, but public use of technology has exploded in recent years.

Today, five billion people in the world own a mobile device. A whopping 93% of millennials use smartphones (and 68% of baby boomers do). We're rapidly moving into a time when more people know how to give online than fill out a check (if we aren't already there). The distinction between tech-savvy and everyone else isn't what it has been in the past.

Most of your church community uses technology for just about every facet of their lives—from communicating with family to planning vacations to paying their bills. Any easy-to-use online giving platform that incorporates text to give and other mobile giving features will provide a smoother giving experience even for technological novices.
Myth #5: Online giving automatically grows generosity.
You won't find a silver bullet when it comes to online giving in your church. Not all giving platforms are all the same. You don't just need any solution—you need the right one! Your ability to succeed with online giving depends upon finding a solution that is easy to use, secure, and truly integrates with other technology tools your church uses.

Plus, even a strong online giving platform can't salvage a poor culture of generosity. Growing church giving depends on how well your church understands the biblical imperative to support God's work in your community and around the world—and sees your church as a vehicle to do so.
---
Bonus Resources about Online Giving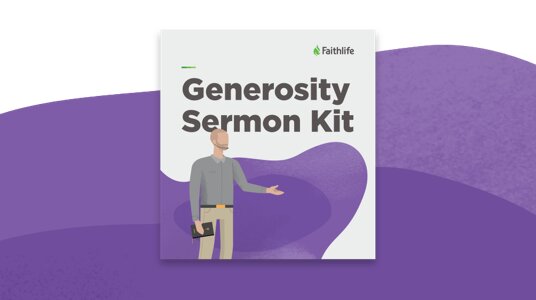 KIT
Generosity Sermon Kit
Help your church grow in generosity with a sermon series on the topic. Check out these done-for-you resources to give you a head start on this important series.
Download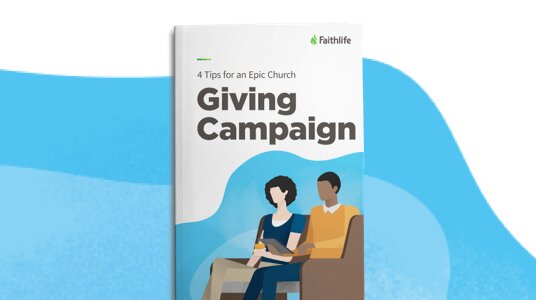 GUIDE
4 Tips for an Epic Church Giving Campaign
Church giving campaigns are hard work, but this guide will help you through it.
Download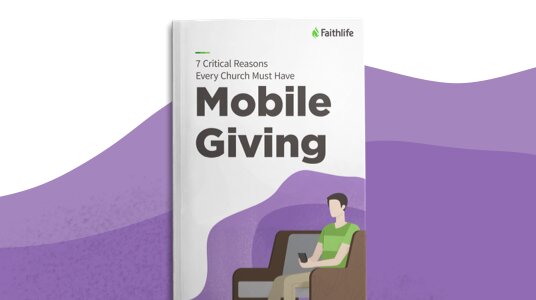 GUIDE
7 Critical Reasons Every Church Must Have Mobile Giving
Most people spend an average of five hours a day on mobile devices. Learn how you can help your church community become better stewards through their smartphones.
Download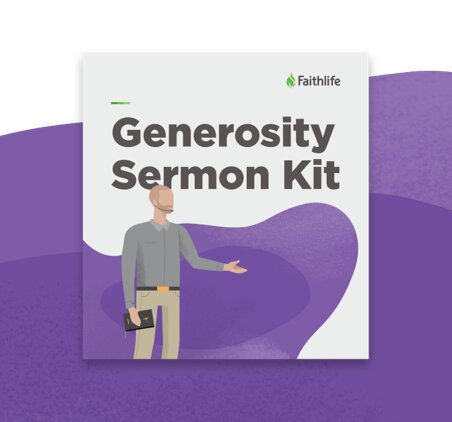 KIT
Generosity Sermon Kit
Help your church grow in generosity with a sermon series on the topic. Check out these done-for-you resources to give you a head start on this important series.
Download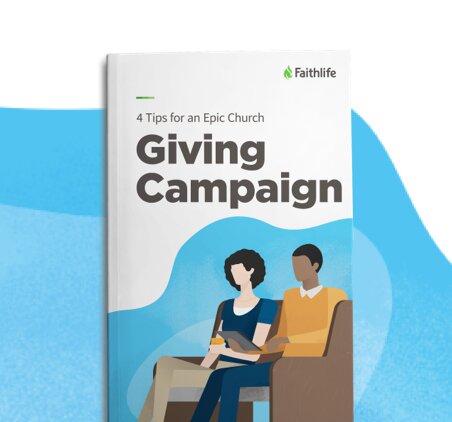 GUIDE
4 Tips for an Epic Church Giving Campaign
Church giving campaigns are hard work, but this guide will help you through it.
Download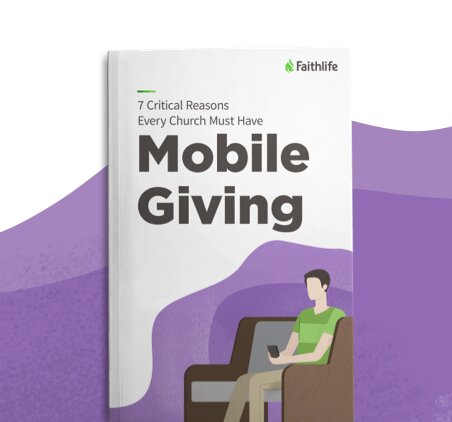 GUIDE
7 Critical Reasons Every Church Must Have Mobile Giving
Most people spend an average of five hours a day on mobile devices. Learn how you can help your church community become better stewards through their smartphones.
Download
---
Products Related to Generosity
Dig in to resources that can help your congregation discover the joy of giving.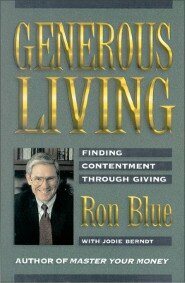 Generous Living: Finding Contentment through Giving
What do generous people know that makes them gladly and liberally give their time, talents, wealth, and other resources? Why should you become such a person—and how can you? Financial advisor Ron Blue explains why an openhanded spirit is the key to freedom, contentment, and joy.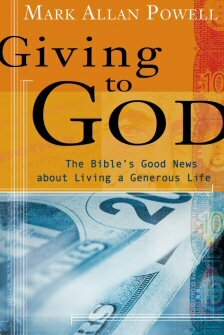 Giving to God: The Bible's Good News about Living a Generous Life
Stewardship and giving are difficult concepts to live out practically, provoking questions such as: What should giving look like in our everyday lives? How do I steward money, time, and giftings well? How much is enough?

Churches that allow people to pay tithing online increase overall giving by 32%.
—Nonprofits Source
---
Common Terms to Know about Online Giving for Churches

Website Giving

Text to Give

Mobile App

Kiosks
---

Website Giving
This is often the easiest way to give for less tech-savvy donors. Provided as a form on your website, website giving is done either through a branded page on your site or your giving provider's site. If it's branded in the same manner as the rest of your website, it provides a more confident giving experience for your church (but it may come with an increased price). Your giving portal should have a responsive design that makes it easier for people giving through a mobile website form.
Web giving solutions tend to be cheaper than mobile apps, and they don't require donors to download or create an account before they can give.
One of the most important elements of website giving is the placement of the button on your homepage. Make sure it's in a visible location and the action you want donors to take is clear.

Text to Give
The biggest benefit of text-to-give solutions is the simplicity it provides for the giver. By just texting a simple keyword to a predetermined number, first-time givers can get a link to a giving form sent to them (without needing to set up an account). Then, repeat givers can contribute with as little as two taps on their mobile device.

Mobile App
A mobile app provides you a bit more control over the giving experience than a website, but it comes at a cost—usually far higher fees. One way to provide a mobile app for your givers without exorbitant fees is to partner with a giving solution that offers a non-branded mobile app for giving. Givers typically won't mind that the app itself doesn't have your church's name on it. And if you're using a platform like Faithlife, you can create a custom tab for your church so the first thing people see when they open the app is your church's branding.
A mobile app solution can be particularly helpful when it's part of a variety of giving options. That way, if a new donor doesn't want to download the app in order to give, they can lean on other solutions.

Kiosks
This giving mode allows your donors to give securely from a public place. The best part about kiosk giving is that people can give in a spot where tech help is nearby. You can place trusted volunteers near the kiosk to answer any questions that might come up. Often it's a first step for people who might later transition to other online giving modes. It's also a way to pay their tithe online even if your donors have limited access to personal technology.
---
8 Online Giving Features Your Givers Want
All online giving isn't the same. Your donors know this. They've likely grown accustomed to quick, clear, and beautiful technological solutions in their work and personal lives. They'd like to have the same experience when they give to your church.

That's not a pipe dream. As the global fintech industry has grown in recent years, enterprise-level technology has become widely available to churches of all sizes.

Here are a few online giving features that will take your givers' experience to the next level—and multiply generosity in the process.
Text to Give
These days, many Americans spend five hours a day on their mobile devices, and a chunk of that time is spent texting. Text messaging is one of the most universal modes of communication in the world right now. Allowing your congregation to initiate a gift to your church via text to give makes giving instantly accessible to nearly everyone in your church.
Mobile Giving
Not everyone wants to give via text message, but they may prefer to give through their smartphone or tablet's web browser. Some online giving platforms include user-friendly mobile giving (such as Faithlife Giving). Look for a giving platform that makes the giving experience feel the same, whether on desktop or mobile, and doesn't require awkward zooming in to type in those pesky credit card numbers.
Convenient Giving
We live in a quickly moving world. Your donors don't have an unlimited amount of time to understand a complicated online giving system. Make sure your online giving tools are intuitive and simple so people can give in seconds. Church giving can be tough enough for people. Your online giving system shouldn't make it harder.
Multiple Giving Methods
Provide as many options as possible for givers in your church. You want people to be able to donate through mobile giving, your website, text to give, kiosks, and more. You need a platform that can bring all of your different digital channels plus check, cash, and in-kind giving into a single unified giving system. A unified church giving system will make it much easier when it's time to send out annual giving statements.
Giving Calculator
Considering how many churchgoers have flexible income because of commission, hourly work, and freelance careers, scheduling a flat tithe at the beginning of the year can be impossible. A giving calculator, like the one used by Faithlife Giving, allows your donors to see what they're giving at a glance and set giving targets based on either pre- or post-tax income. Faithlife's calculator also includes a library of biblical stewardship resources in the same place where people can make a gift.
Giver-Covered Fees
Most givers know there are fees associated with their online gift, and most (72%) want to cover the fees the church will incur on behalf of their convenience.
Security
Your donors expect you to steward God's money well. To ensure people can pay their tithe online securely, look for industry-standard best practices for how the provider handles financial information. Ask questions about how they keep personal and cardholder information safe. Look for a solution that uses Transport Layer Security (TLS) to transmit credit card information. Also, ensure your online giving solution adheres to all applicable regulations to make them PCI DSS compliant.
Quick Access to Giving Records
Providing your donors with round-the-clock access to giving receipts, statements, and a detailed giving history empowers them to manage their own generosity and inspires confidence that you're keeping good records. This reduces their need to lean on your staff for this information and allows them to make strategic generosity decisions on their own. Add in the Giving Calculator (mentioned above), and these tools allow you to disciple your church community in stewardship more effectively.
---
Back-End Giving Features That Make Admins Smile
One of the best parts of online giving for churches is how much easier it makes financial tasks for whoever on your team manages giving. It's not uncommon for the right digital tools to save 5+ hours a week in administrative time. So what are some of the online giving features that will save your church time and make administrative work more helpful?
Multiple Funds
People financially support a variety of needs in your church (general fund, capital campaigns, mission trips, community ministries, etc.). Your giving solution should make it easy for your admin, bookkeeper, or finance team to set up the designated funds you need. This provides better reporting and encourages people to support the causes they care about most.
Cash and Check Recording
Ideally, most of your donors will give online, but some will choose to give through manual gifts (cash, checks, and even in-kind donations). Your giving solution should be able to integrate those gifts with your digital ones so that you can stay better organized and export your gifts into your accounting program.
Secure Access for Multiple People
If your church has a finance team with several members, you'll want to make sure you can give access to everyone who needs it—and be able to do so securely. You'll also want to make sure you can rescind access if someone steps away from your finance team. You can do all this on Faithlife Giving.
Giving Statements
Providing tax receipts or giving statements for your donors will help them when they fill out their tax returns. Your online giving solution should make the process of creating these receipts much easier than before. Faithlife Giving will automatically send your donors a giving statement at the end of the year with their total and itemized donation amount.
Customizable Email Receipts
Your givers—particularly new ones—want to make sure their gifts went to the right place, and sending an automatic email receipt is just about the best way to provide your donors that assurance. But you don't want them to get just any receipt. After all, your church isn't Amazon or Walmart. Make sure you can customize your email receipt with a personal thank-you message and an invitation to contact your staff with questions about getting connected, as well as a link to view their entire giving history.
---
How to Optimize Your Online Giving
Just because you sign up for online giving with a great company doesn't mean giving will grow automatically. You will still need to do your part by enacting an effective church-wide online giving plan. Here are a few tried-and-true strategies that will help you grow generosity:
---
Develop a church-wide culture of generosity.

Your culture will determine the level of generosity at your church. Telling stories about the impact of charitable giving and connecting ministry highlights to the generosity of donors are a couple of ways to begin building this kind of culture. You can find some other strategies in this blog post. It takes time to develop a generous culture. Work on it slowly and be patient. Once you've built it, you'll find your culture is the single most important part of growing generosity.

---

Train tech mentors to help people use the tools.

Most online giving tools are easy to use (like the ones available with Faithlife Giving), but you'll still have some people who need time to adjust. Fortunately, nearly every church has early adopters who are more than willing to help. Ask some of these early adopters to serve as a "Geek Squad" before and after worship to help people with any online giving questions.

---

Build online giving into your stewardship training.

You likely teach people about giving in several different places (weekend messages, Sunday School/small groups, membership classes, etc.). Make sure online giving is worked into all of those teaching times. Don't just tell people about online giving—teach people how to do it. Depending on the venue, consider walking people through it. And of course, be sure to communicate its importance.

---

Repeatedly explain how to give.

Recurring giving is the highest-reward, lowest-effort component of your church giving plan. Help new recurring givers get started, and they'll likely give to your ministry for an extended period of time (people generally don't cancel recurring giving unless they're experiencing a major life change). It's a win-win situation for everyone—you get consistent giving, and your givers don't need to remember to donate each month. Church leaders should model (and talk about) recurring giving as much as possible.
---
Implementing Online Giving for Churches: Next Steps?
It's time to take action. Your church won't benefit from a robust online giving solution until you act upon what you've learned. Every day you delay, you'll frustrate current and potential donors and perhaps miss out on giving that can expand your ministry. Begin by taking these important next steps:
1. Gather a team to help you evaluate online giving options.
You don't need to take months to preview different solutions, but there are too many credible options to simply let one or two people check them out. Enlisting a team will also help you ensure you're taking a well-rounded look at your options.
2. Conduct a survey to find out your church's interest in different features.
Every church will engage with online giving differently. Use an easy online survey system to ask some basic questions about how your attendees use other fintech tools in general.

Don't simply focus your questions around church giving solutions. For many of your best givers, your current giving solution is likely their only experience. Expand your inquiry to look into how they engage with other financial technology, like online banking and shopping.
3. Begin working immediately to develop a culture of generosity.
These practices will help your stewardship program regardless of how quickly you adopt a new online giving solution. Remember, be patient and try to work through a methodical plan for re-creating your church culture.