Online Giving for Churches
Tithing Isn't about Money. It's about Jesus.
That's why Faithlife Giving is the only online church giving platform that also nurtures healthy stewardship through biblical content and tools.
Online giving by the makers of Logos
---
Most Giving Platforms Treat Believers Like an ATM
Sure, your church depends on tithes and offerings to survive. But using tools that are solely focused on finances emphasizes the wrong thing. The church isn't a business. Giving is about spiritual formation—but the tech you're using may rob your people of an opportunity for growth.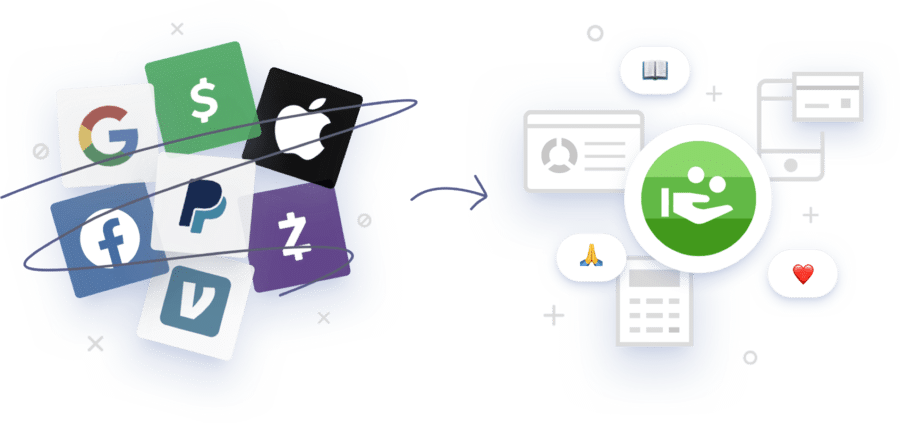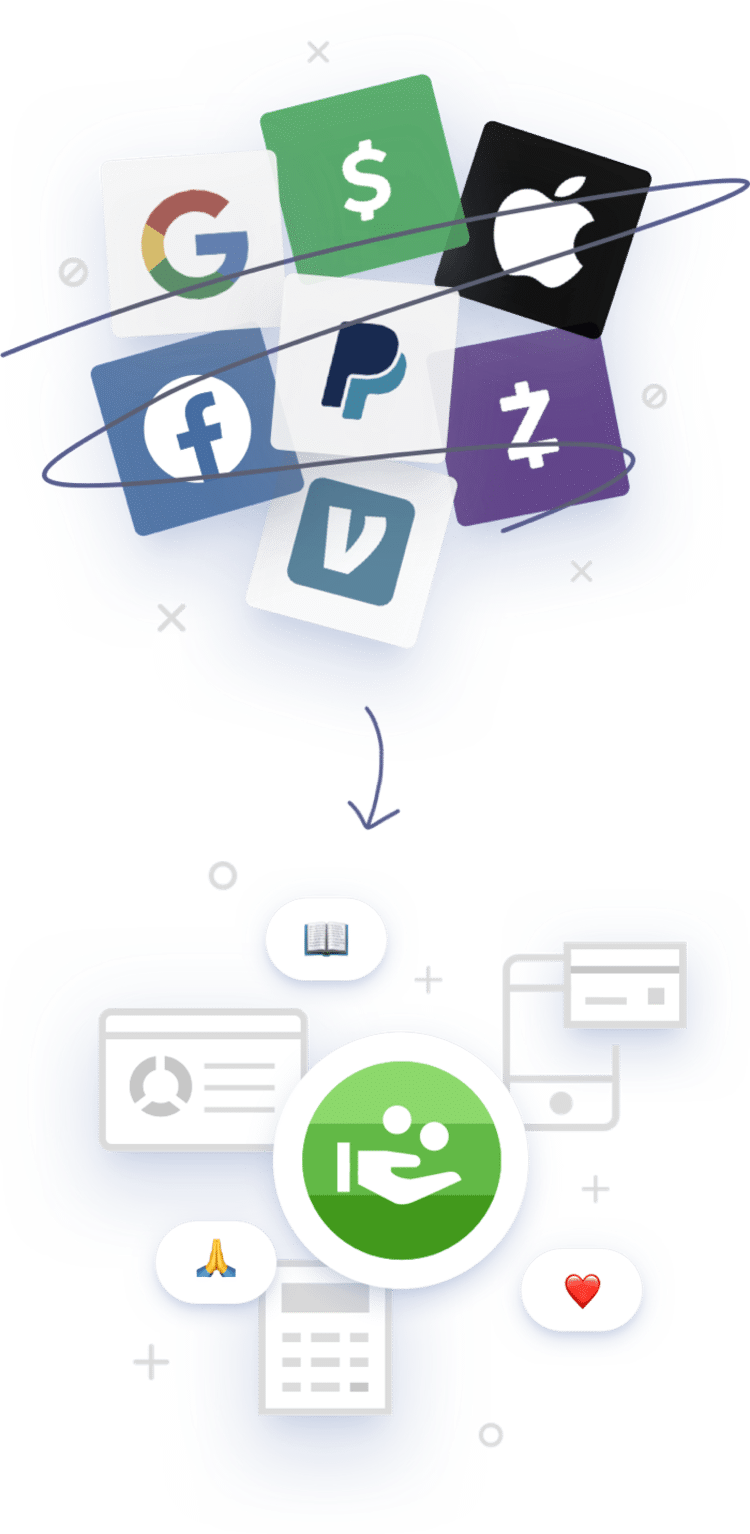 Faithlife Giving Puts the Focus Where It Belongs: Discipleship
You'll get everything you'd expect from a secure, top-of-the-line giving platform. Plus, our tool teaches biblical principles of stewardship and empowers believers to make a plan to give—and stick to it. And because we're the makers of Logos Bible Software, you can always trust us to point your people back to God's Word.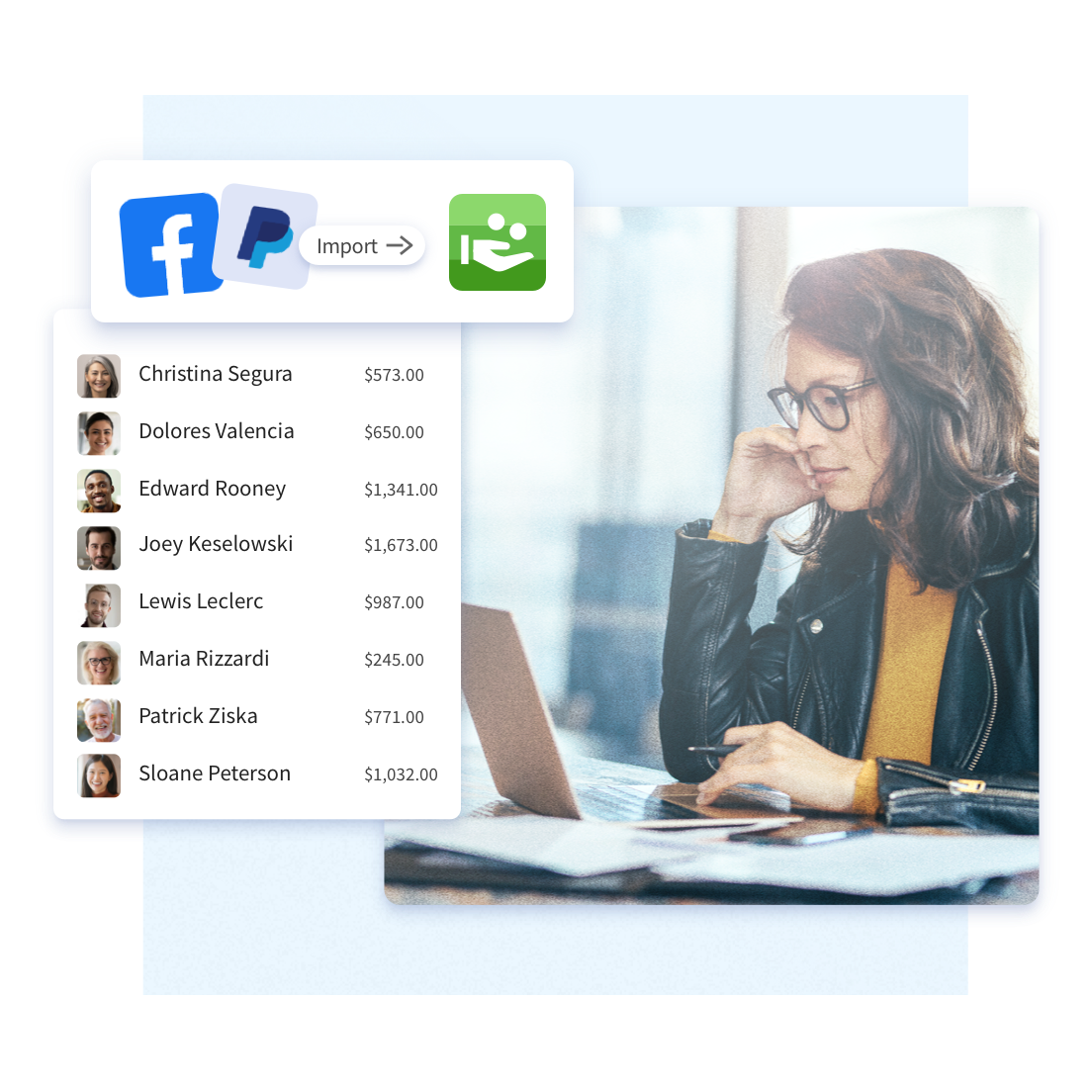 Easy Import
---
Switch to Faithlife Giving & Bring Your Records with You
Upload a spreadsheet, and we'll transfer your givers' names, email addresses, street addresses, gift history, fund designations, and more.
Don't lose recurring gifts: Import your upcoming gift schedules, then givers simply add their payment info to continue recurring gifts.
Auto-generated giver profiles: We'll automatically create a giving profile for everyone who has given to your church.
Give your givers control: All your givers will receive access to a personal portal with their complete giving history.
Easy to Use
---
Raises Dollars, Makes Sense
It's stunningly simple to make an offering with Faithlife Giving:
Give with a link: Just share a link, and anyone can give without even creating an account.
On your website: Add a prominent button to give on your site.
Text to Give: A few thumb taps is all it takes.
Kiosk giving: Set up an iPad so they can give in the lobby.
Customizable app: Give through an app you customize to fit your church's look.
Cash and check: You can quickly log your gifts later.
We help you do it all, because we don't want to put limits on your ministry.
See all features.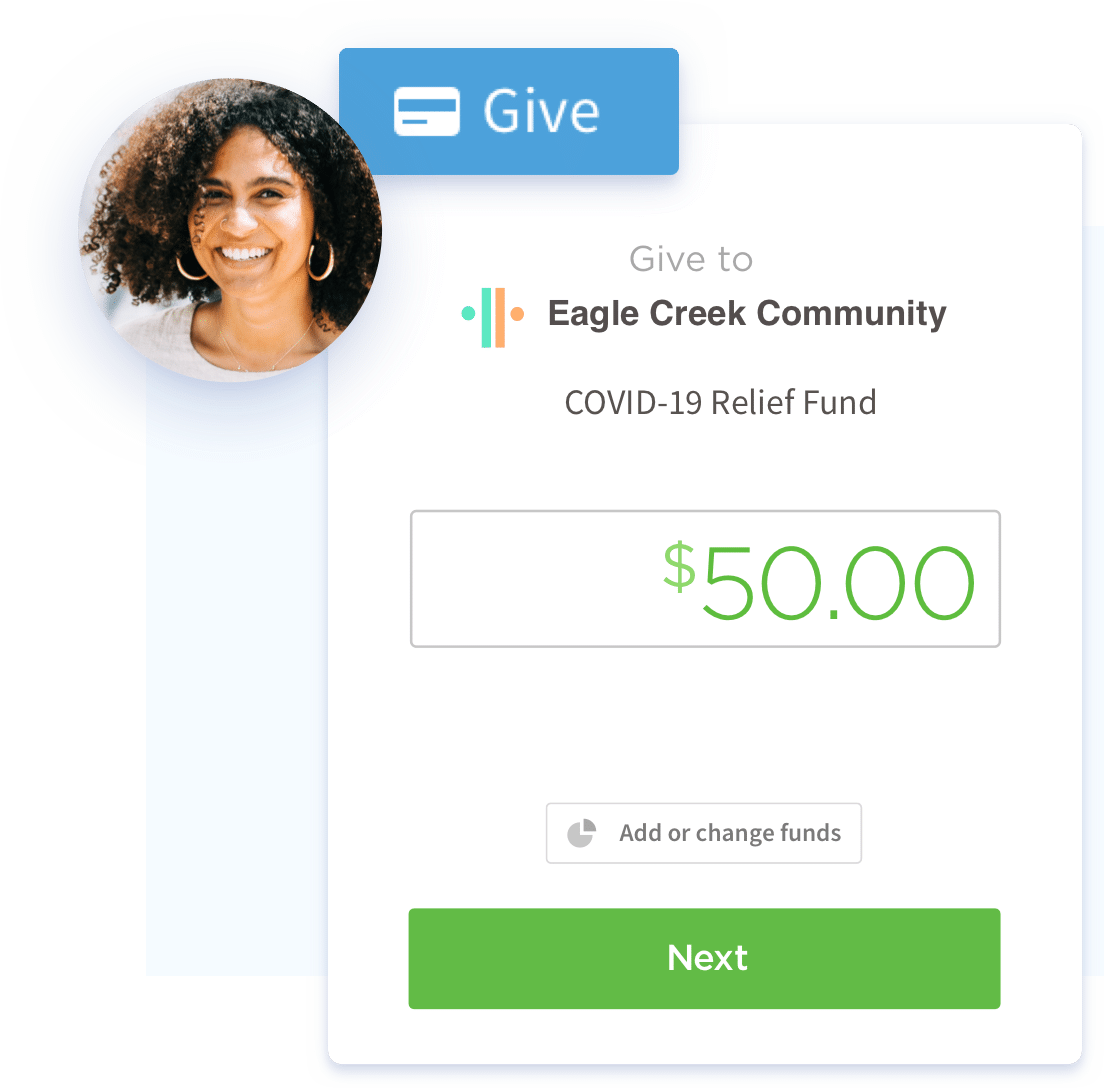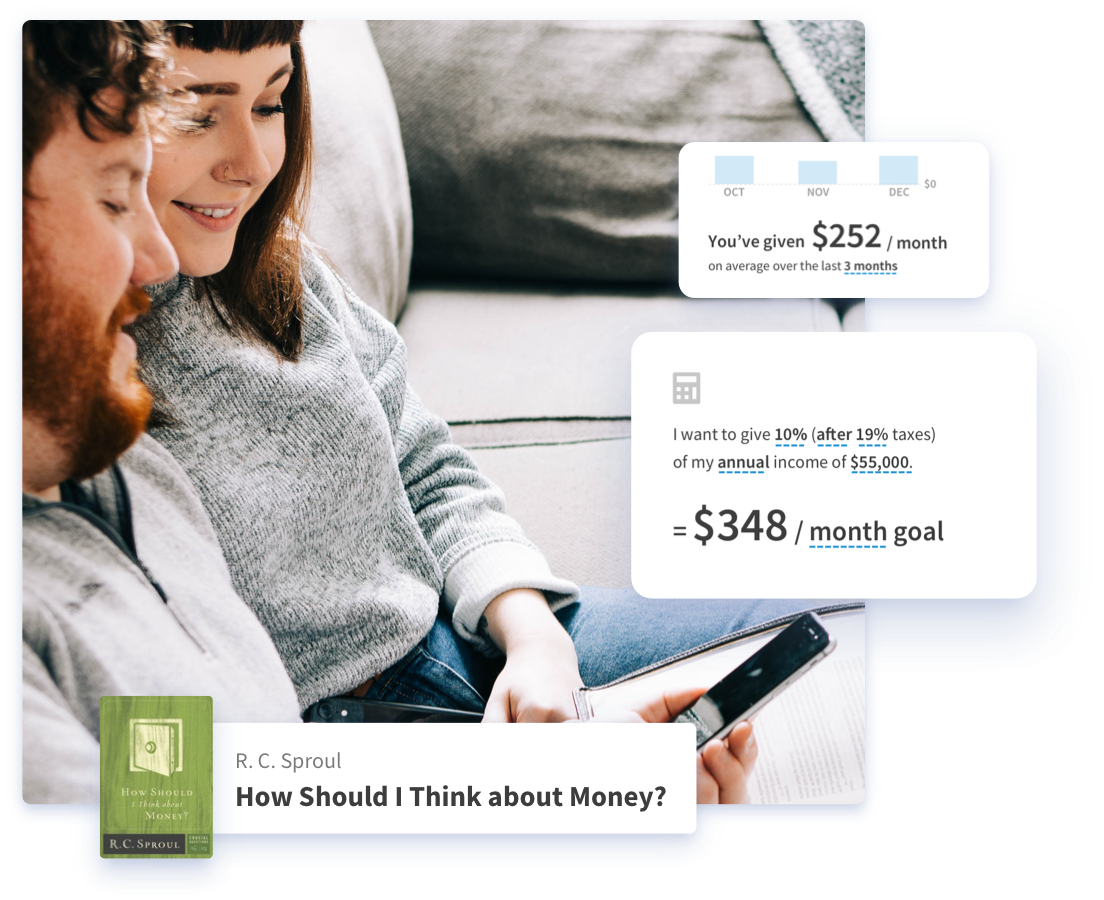 Discipleship Resources
---
Create Generous Disciples
We created the Goal Calculator so you can transform everyone in your church into a biblical steward. With it, your members can set personal giving goals based on income. They'll track their generosity over time and even learn biblical principles of stewardship through helpful articles and books linked right inside the tool.
Low Rates + Free Features
---
Collect Funds without Getting Nickeled and Dimed
Unlike other giving platforms marketed to churches, we won't squeeze you dry with hidden fees or premiums for features. We keep our transaction fees low, and all of our features are included for free with every plan.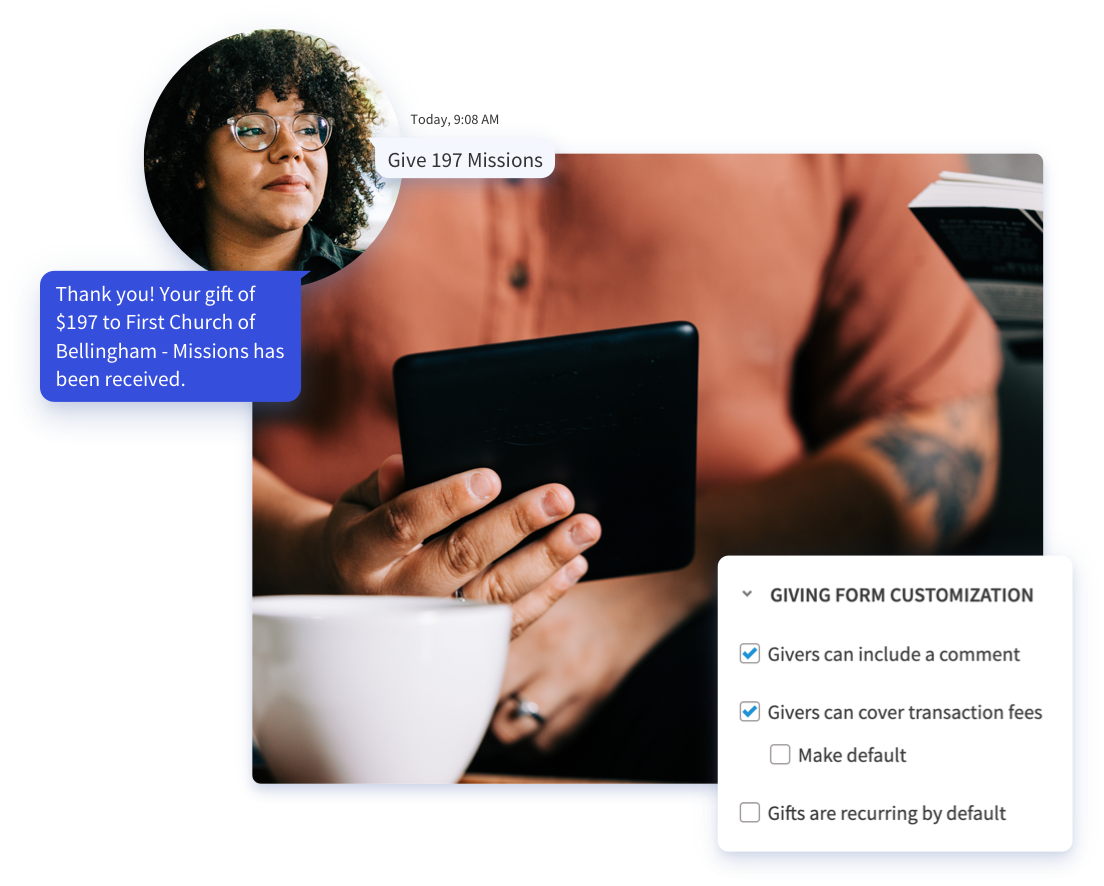 ---
Discover Why over 4 Million People, Churches, and Ministries Trust Faithlife
I LOVE the goal calculator and study resources . . . ! As an individual tither, I love that this tool lets me quickly see how I am giving to my church. The study resources are also excellent. Thank you!
When we needed an online donation system that could support numerous outreach ministries, Faithlife delivered! This system is easy to use, the reports are outstanding, and the friendly client service is unbeatable.
This is the best customer support I have ever had. Please don't ever change that. You guys have a true calling.
We don't have to continually fuss with Faithlife Giving. It's reliable and easy to use. Our treasurer's team and weekly counters are excited for our giving statements and fund processing to be all on one system.
Because our members work in technology, they're hyper-aware of online security. When we started using Faithlife, they were excited to communicate and give in a way they could trust.